IK Multimedia introduces X-Gear
The new pedals feature 16 different effects drawn from the most popular AmpliTube virtual-effects .
IK Multimedia announces X-Gear pedals lineup that features 4 model: X-Space, X-Drive, X-TIme and X-Vibe. Each device boasts Ultra-low noise, 24-bit/192kHz converters. 5 Hz–24 kHz frequency response to capture the full scope of your guitar's sound, up to 123 dB dynamic range for whisper-quiet operation at any gain setting and a pure analog dry path and selectable true or soft bypass for maximum control.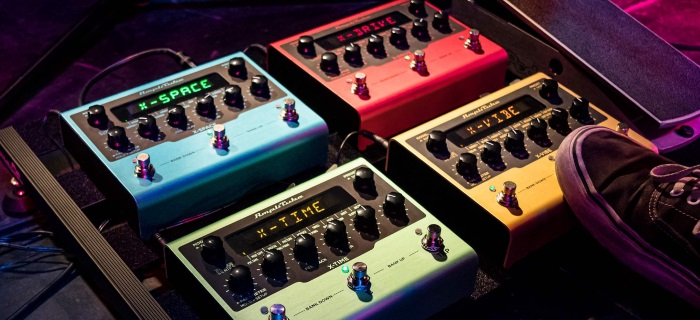 Each AmpliTube X-GEAR pedal includes a matching virtual version for Mac/PC and a copy of AmpliTube 5 SE. Open any version of AmpliTube 5 and you'll find your virtual X-GEAR pedal available as a stomp for use within the program. Adjust any of your pedal settings with the convenience of AmpliTube's award-winning workflow and save them as presets.
The X-GEAR Librarian lets you move presets between X-GEAR pedals and AmpliTube and easily reorganize them on the hardware pedal, where you can store up to 300 presets. The IK X-Gear pedals go on sale in August at a price of €299 each. Stay Tuned!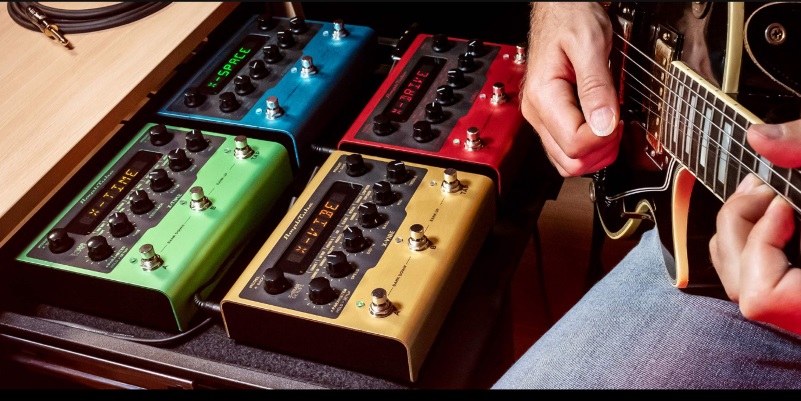 FEATURES
– Breakthrough software and hardware integration
– State-of-the-art DSP in a road-worthy anodized aluminum chassis
– 4 distinct effects pedals: distortion, modulation, delay and reverb
– Each pedal packs 16 different algorithms and 50 factory presets
– Includes exclusive virtual X-GEAR versions for use in AmpliTube 5
– USB port for preset management and use as a recording interface
– Full MIDI implementation including control over AmpliTube 5
– Designed and made in Italy for a lifetime of playing and gigging
Info: IK Multimedia