OXYGEN PRO 49: A FULL OPTIONAL MIDI/USB KEYBOARD WITH MANY FUNCTIONS FOR YOUNG PRODUCERS (ENG)
Well equipped and with everything you need on board to set up a virtual environment to be used for music production in the home and project studio, the M-Audio home keyboard does not disappoint expectations, making it one of the best currently in circulation in its market segment.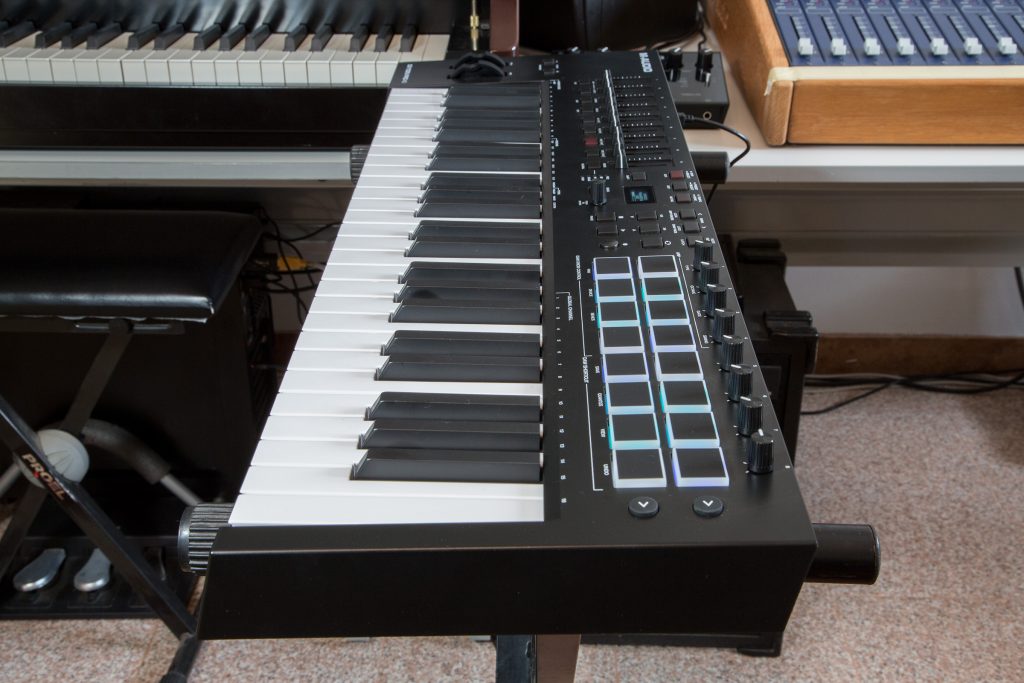 Full-size, piano-style, semi–weighted, velocity-sensitive keys with aftertouch and 4 octaves of extension. Black chassis, entirely of plastic but of good quality. On the control panel a myriad of buttons, potentiometers, and sliders for remote control of DAWs, sequencers, and virtual instruments. We are talking about the recent MIDI/USB Keyboard from M-Audio: the Oxygen Pro 49.
ACCESSORIES & SOFTWARE BUNDLE
Designed for setting up small and medium-sized computer-based music production studios, M-Audio Oxygen Pro 49 contains, in a single package, everything you need, and even more, for the centralization and control of a modern virtual studio. Included with the tool, the US company provides a software bundle that offers various applications; they range from the preset editor for managing remote presets and mapping the control surface of the device, to the Ableton DAW for loop-based music creation: Live 10 in the Lite version.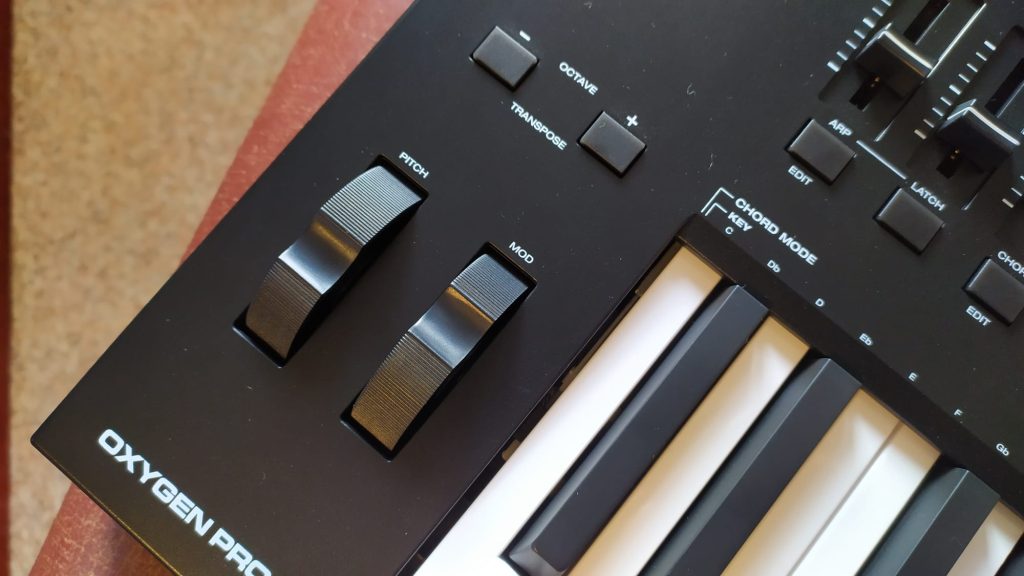 And then there are also the DAWs Pro Tools|First M-Audio Edition, AKAI MPC Beats, and a number of virtual instruments developed by AIR Music Tech, including Hybrid 3, Velvet, Mini Grand, Vacuum, Boom, and DB-33 (the last three available only on Pro Tools). Last but not least, 60 free lessons to follow on the Melodics e-learning platform (www.melodics.com). In the box: a multilingual quick start guide and a USB cable. M-Audio Oxygen Pro 49 is powered via a USB connection and does not require the use of an external adapter.
REGISTRATION & INSTALLATION
In order to download the native software supplied with Oxygen Pro 49, it is necessary to create an account on the M-Audio website and proceed to register the product, after which a dedicated page allows you to start the download of the various applications: Preset Editor, Firmware Update and Software Manager. A series of tutorials and documentary resources are also accessible in this area to optimize keyboard operation with the most popular DAWs on the market. M-Audio Oxygen Pro 49 is a class-compliant USB device, which does not require specific drivers for installation. On both PC-Windows and Mac systems, simply connect the keyboard to the computer using the supplied cable and wait a few seconds for the operating system to configure everything.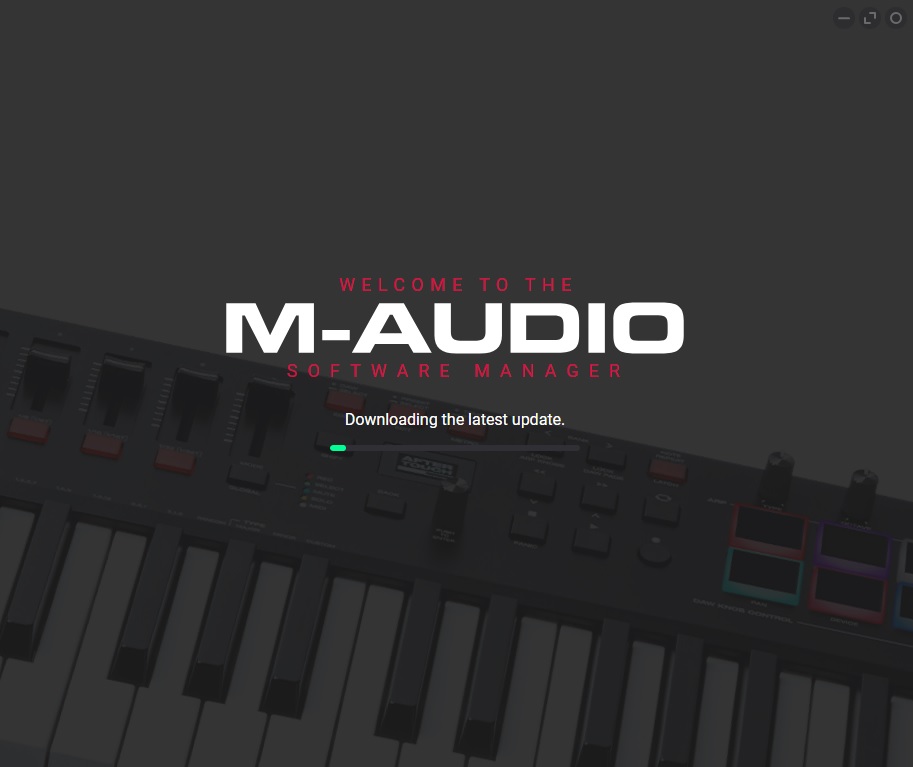 CONTROL PANEL & CONNECTIVITY
The control panel of M-Audio Oxygen Pro 49 is particularly rich: we can ideally divide it into 4 sections. The first, visible at the bottom left, includes 2 wheels for adjusting pitch-bend and modulation and 2 buttons for octave switching and transposition. The second, positioned a little higher, offers 9 faders and 9 assignable switches.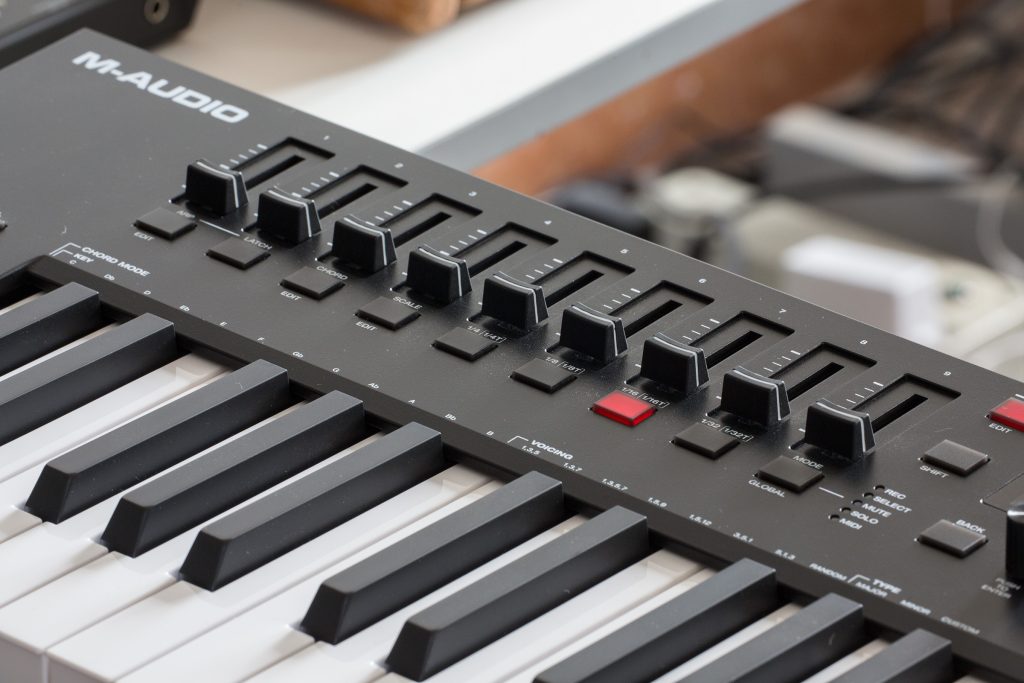 The section in the center offers an OLED-type graphic screen and a series of buttons that allow you to perform various functions, such as managing the transport operations of DAWs and sequencers (Rec, Play, Stop, etc.). Just below the display, however, a potentiometer/switch allows you to perform data selection and entry operations.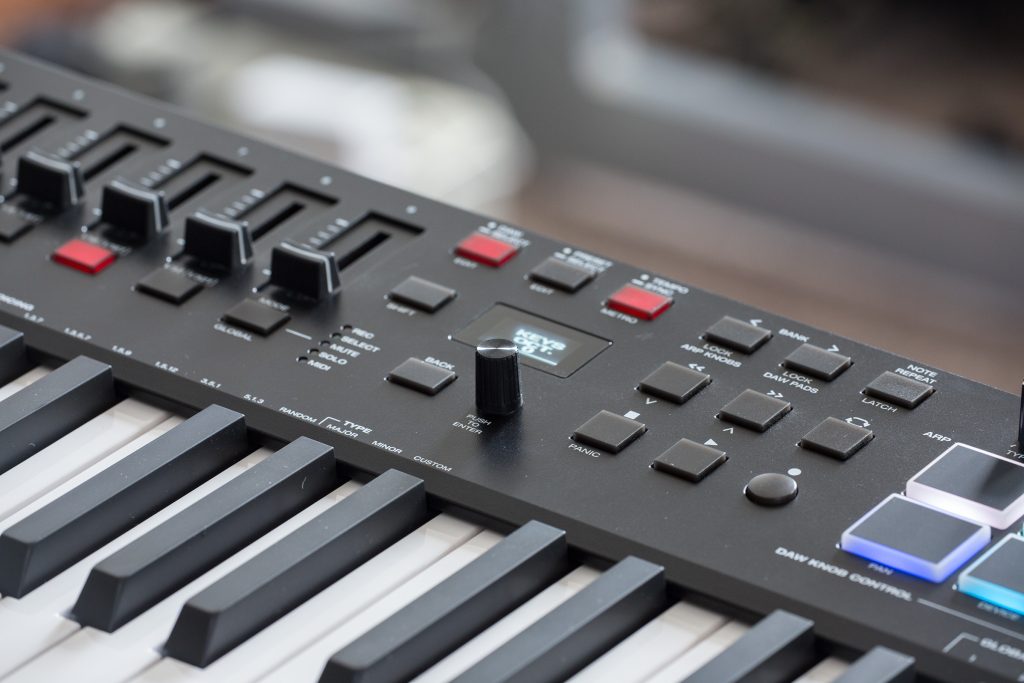 The last section on the right offers 8 rotary potentiometers, 16 assignable, dynamics-sensitive pads with RGB backlighting, and 2 buttons for bank switching.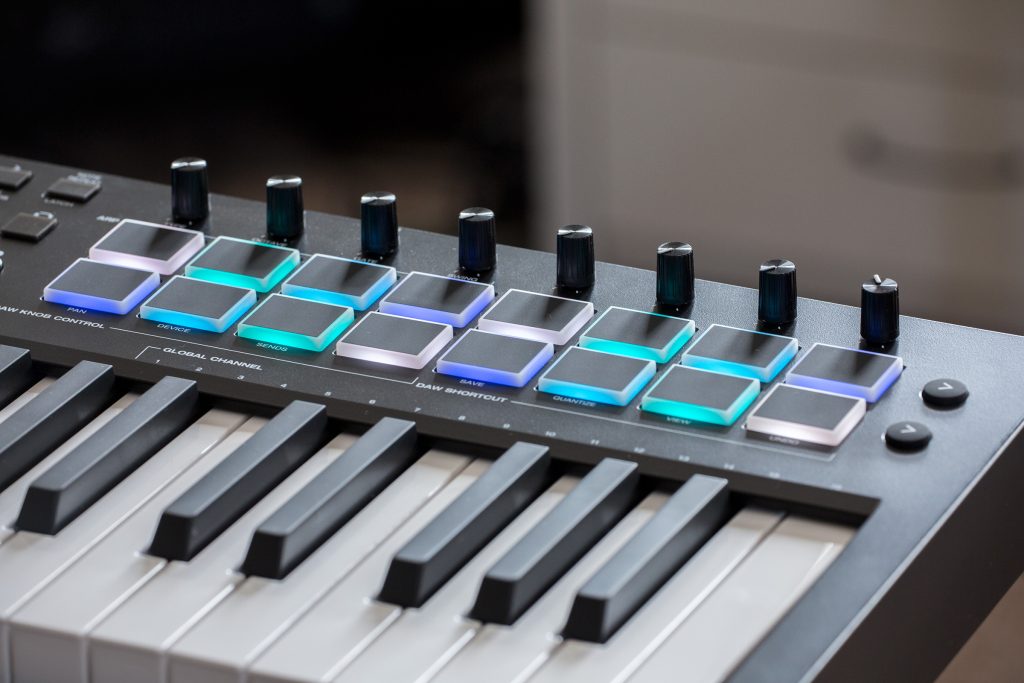 In terms of connectivity, the instrument offers a USB socket for the transmission of MIDI data, a switch for turning it on and off, a standard MIDI OUT on DIN 5-pin, and a 1/4″ TRS jack for the pedal Sustain.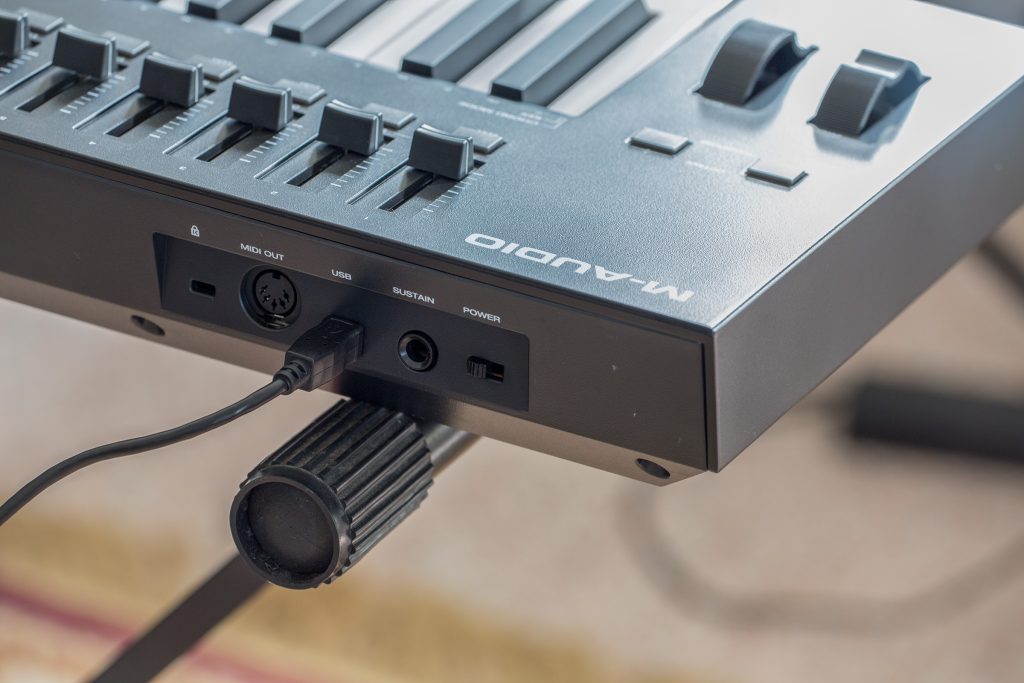 DAW & PRESET MODE
Once turned on, M-Audio Oxygen Pro 49 is ready to use in a few seconds. The instrument supports two main operating modes: DAW and Preset. In DAW mode, with a simple click, it is possible to set up the device for remote control of a DAW of your choice among the most popular currently on the market. Just hold down for a few seconds the DAW Select button, visible at the top left of the display, which displays a series of programs that can be selected and activated with the switch/encoder positioned just below the screen. More in detail, the following daw-maps are available: Pro Tools, MPC, Ableton Live, FL Studio, Reason, Cubase, Logic, BitWig, Garage Band, and Reaper. The last program, User-DAW, is reserved for programming a custom DAW. In DAW Mode, you can quickly switch fader/switch pairs to enable tracks for recording (Rec Mode), to select (Select Mode), mute, and solo tracks (Mute and Solo Mode).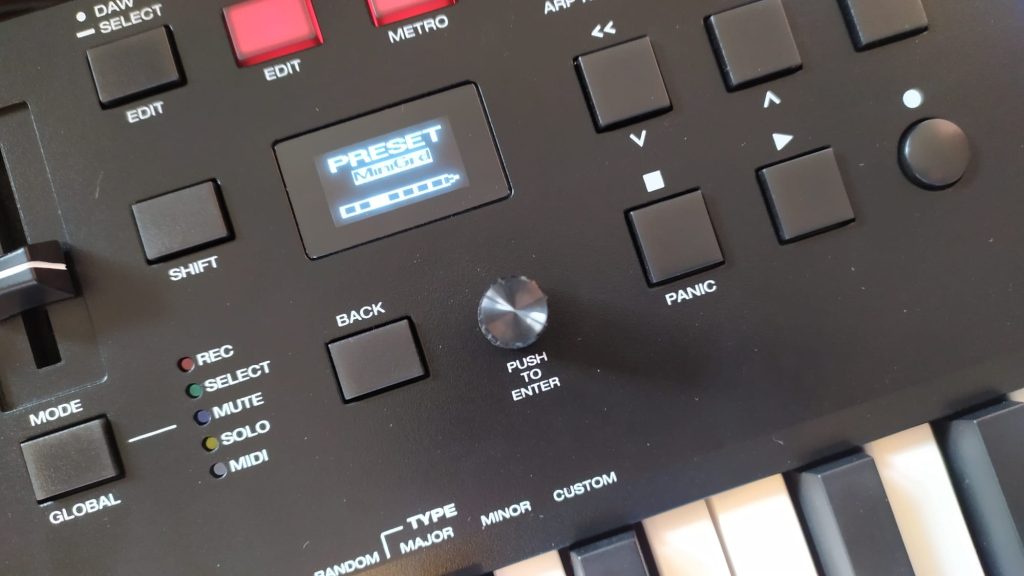 In Preset Mode, however, a mode that is enabled by holding down the button of the same name next to the DAW Select button for a few seconds, the M-Audio Oxygen Pro 49 instantly becomes a control surface for remote control of virtual instruments. The factory programmed presets include MPC Pl (MPC Plugin), Hybrid (Hybrid 3), MiniGrd (MiniGrand), Velvet, Xpand (Xpand! 2), Vacuum, Boom, and DB33. The equipment also includes 8 user-programmable presets.
M-AUDIO SOFTWARE MANAGER
Among the native M-Audio applications supplied with Oxygen Pro 49 is Software Manager, which once installed allows you to download, activate and manage all third-party software components included in the bundle supplied with the device. Once launched, Software Manager displays, through a single simple and intuitive screen, the list of all available applications: soft-synths, Apps, sound libraries, and so on.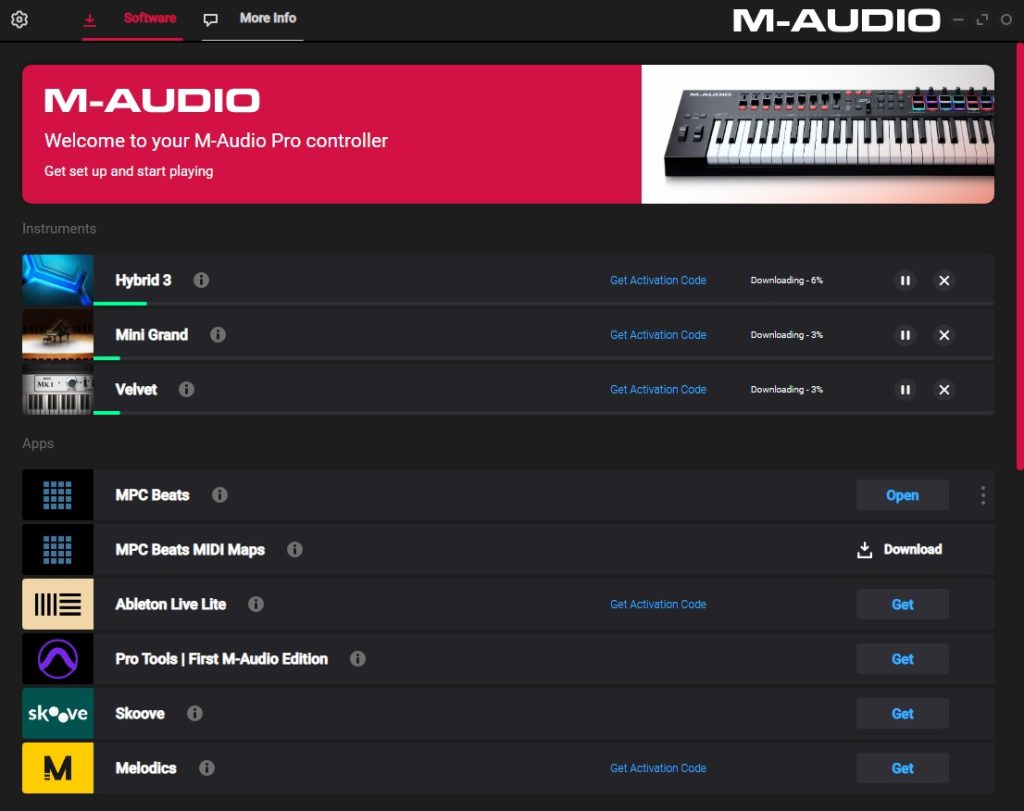 The instruments paired with Oxygen Pro 49 include the Hybrid 3 analog synthesizer, the Mini-Grand virtual piano, and the Velvet virtual electric piano, all developed by AIR Music Technology (https://www.airmusictech.com).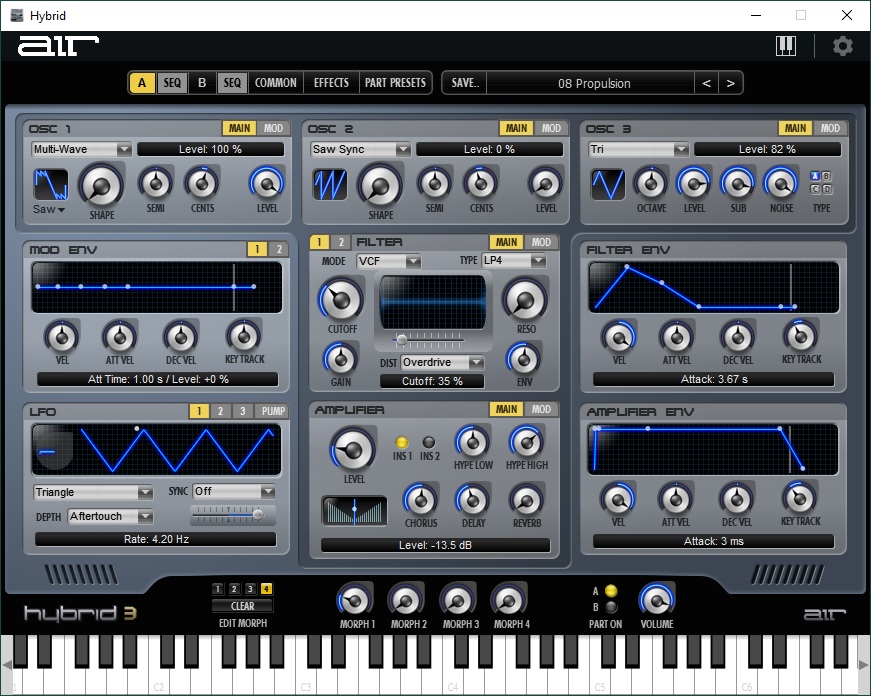 To download them, simply click the Install button. Then you need to get the activation code. Here the procedure is slightly more complex: in fact, you must first create an account on my iLok (www.ilok.com), download the iLok Manager software, authenticate in the iLok Manager software with the credentials created during registration, copy the authorization (Authorization Code) relating to M-Audio Software Manager, which is located in the reserved area of ​​the M-Audio personal account in which we registered the Oxygen Pro 49, and insert it in the iLok Manager software screen accessible from the Licenses/Redeem Activation Code menu. From here you can choose whether to proceed with activating the license on an iLok hardware key or whether to activate an electronic license on your computer.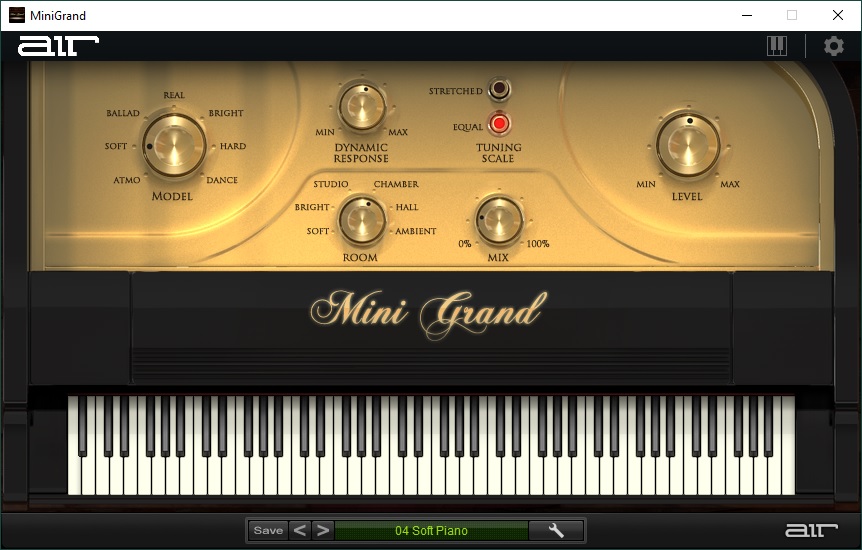 PRESET EDITOR
Among the interesting applications supplied with M-Audio Oxygen Pro 49, there is also the Preset Editor, a software that allows you to program the functions assigned to the instrument's control surface down to the smallest detail. Once installed and thanks to an intuitive graphical interface, Preset Editor allows you to create remote maps for both the control of Digital Audio Workstation (DAW mode) and virtual instrument (Preset mode). Once created, the maps can be saved in the computer memory and, if necessary, recalled and sent to Oxygen Pro 49.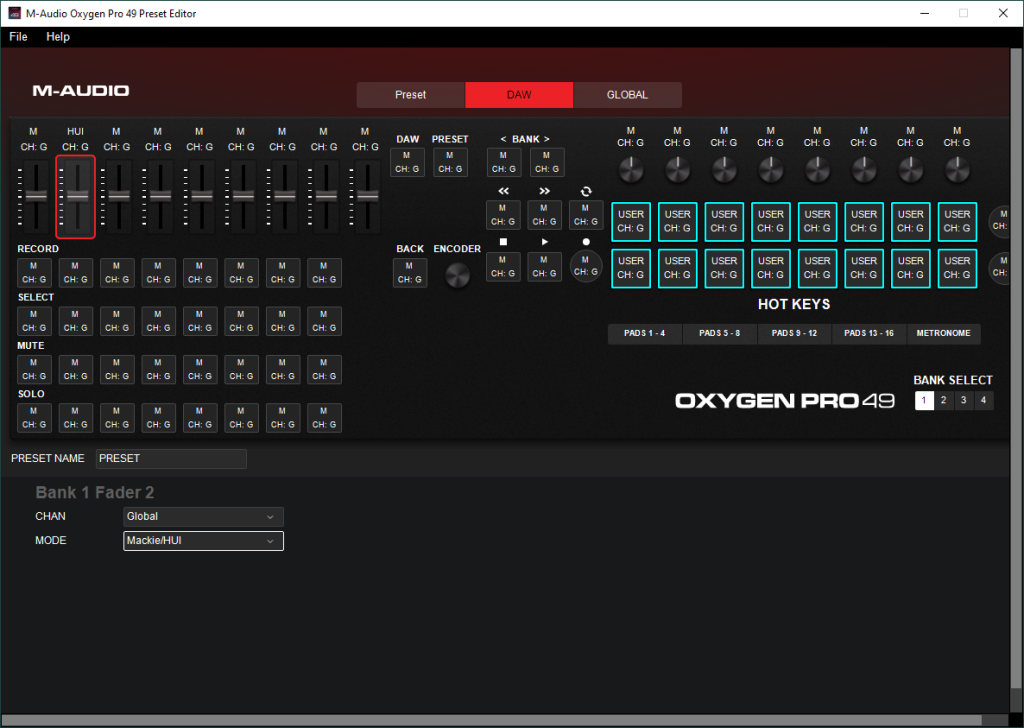 SMART FUNCTIONS
M-Audio Oxygen Pro 49 implements a set of intelligent features designed to simplify, especially during a live performance, the generation of harmonic and melodic sequences. Onboard this instrument, in fact, we find not only an arpeggiator, equipped with different execution modes and latch function, as well as real-time controls via encoder but also a chord generator with the possibility of choosing voicing and tonal modes (Smart Chord Control) and a scale generator (Smart Scale Control) which when activated allows you to switch the keyboard to play only the notes present in a specific musical scale.
ON THE ROAD
After several hours of use, we can say that M-Audio Oxygen Pro 49 is a decidedly fun MIDI keyboard. The keys, which at first impression may seem too "light", turn out to be reactive, precise, and above all silent during execution. Thanks to a well thought out and well-assembled quality mechanics. Even the sliders and potentiometers are not far behind: smooth, precise, and sufficiently resistant. The pads are also pleasant, sensitive, and precise. In general, the control surface is ergonomic and easy to handle, with well-spaced and positioned buttons and controllers. A negative note concerns the screen, which is barely large enough.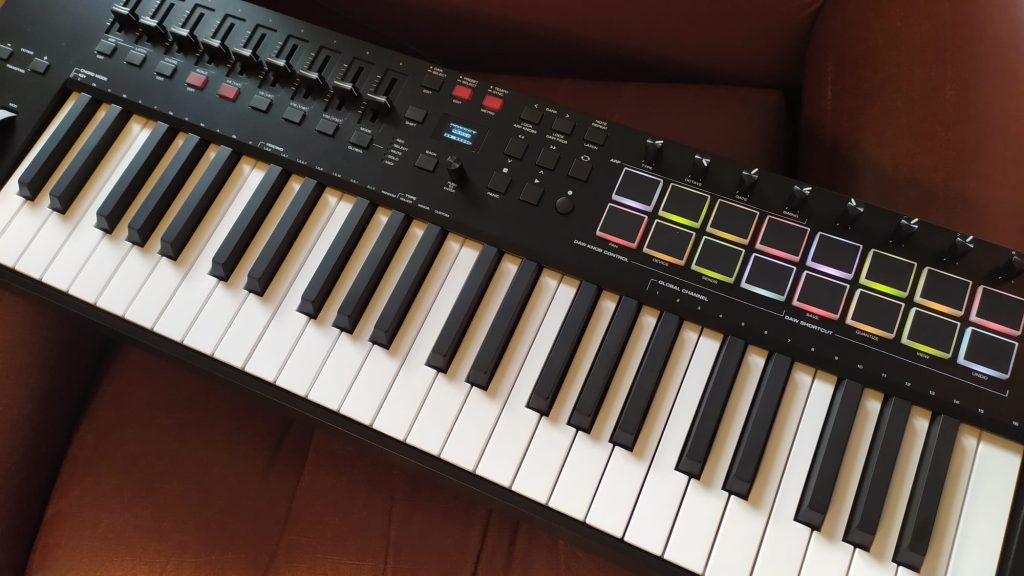 CONCLUSIONS
Oxygen Pro 49 ranks by right among the most advanced MIDI Controllers/Keyboards currently on the market. The smart functions, the wide and varied set of buttons, potentiometers, pads, and faders, the possibility of using the controllers to adjust the main channel functions and/or as a shortcut for recalling DAW and sequencer functions allow you to centralize effectively and efficiently remoting and controlling medium-sized virtual music production studios. The rich software bundle included in the accessory equipment allows even the novice user to get to work immediately without additional costs. An all-in-one solution with a decidedly advantageous quality/price ratio. Oxygen Pro 49 has a street price of around 220 euros.
PROS
Construction
Keyboard
Functions
Software Bundle
Standard MIDI OUT
Cost
CONS
FEATURES
49 semi-weighted sensitive keys with aftertouch and assignable zones
16 velocity-sensitive RGB illuminated pads with Note Repeat function
8 knobs, 8 buttons and 9 assignable faders for controlling virtual instruments, plugins and DAWs
Preset and DAW buttons for self-mapping the parameters of music software and plugins
Smart Chord mode that allows you to play chords by pressing a single key
Smart Scale mode to avoid playing out-of-scale notes
Arpeggiator with Type, Octave, Gate and Swing parameters
Ergonomic Pitch and Modulation wheels
USB-MIDI connection
5-pin MIDI connections for controlling external MIDI equipment
Intuitive layout with OLED display for easy programming
SOFTWARE BUNDLE
DAWs: Pro Tools|First M-Audio Edition, MPC Beats, Ableton Live Lite
Virtual Instruments: Hybrid 3, Velvet, Mini Grand, Vacuum, Boom, DB-33 (Vacuum, Boom e DB-33 are usable only in Pro Tools)
MPC Expansion Packs – MPC Beats Producer Kits, F9 Instruments Beats Edition, LANIAKEA Sounds – TrapSoul & LoFi Production Pack, MSX Audio – Soulful Drums Collection, ADSR – LoFi Producer Collection, MVP Urban Roulette Beats Edition – Urban Kits & Samples Expansion Pack, Cr2 Deep House Beats Edition – Deep House Expansion Pack
INFO