Moog released MiniMoog Model D
Designed for iOS, the new virtual instrument boasts 4-bots of poliphony and over 160 presets.
Moog Music has launched a new app for iPhone/iPad: MiniMoog Model D. Designed to emulate the legendary Moog's keyboard synthesizer, MiniMoog Model D is optimized for use on all 64-bit iOS devices, and includes over 160 presets ready to use.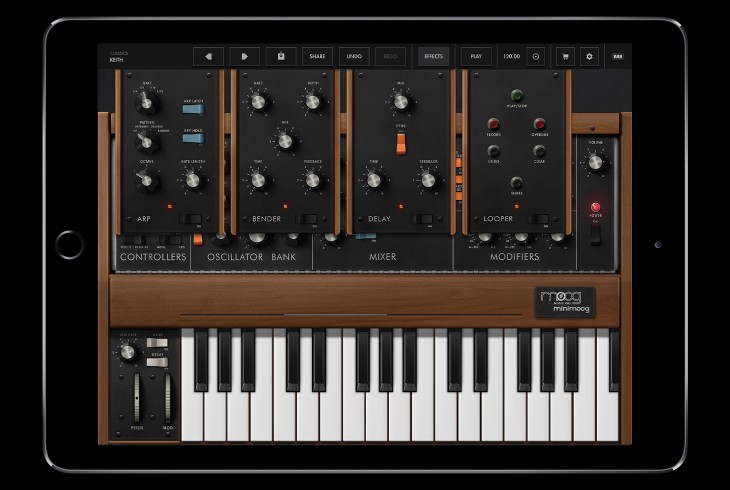 Taking full advantage of the iOS platform, the Minimoog Model D App incorporates a number of inspiring sound creation tools and capabilities not present on its analog antecedent. New functions include the ability to play chords with up to four-note polyphony, an easy-to-use arpeggiator for rhythmic pattern creation, a real time looping recorder with unlimited overdubbing capacity, a tempo-synchronizable stereo ping pong delay module, and the Bender, a wide-range stereo time modulation effect module.
The Minimoog Model D App also supports AUv3 Audio Unit extensions, which allows multiple instances of this powerful instrument to be used simultaneously within compatible iOS apps like Apple's GarageBand. Price: 4,99$ in the App Store.
FEATURES
• Ships with over 160 presets (Hundreds more available in the Minimoog Model D App Store)
• Up to 4-notes of polyphony
• Easily share presets and audio recordings with friends
• Arpeggiator module with note-hold capability
• Stereo ping-pong delay effect
• Bender time modulation effect
• Real-time looping recorder with overdub and immediate sharing
• Selectable envelope shapes and triggering behavior
• Effortless MIDI CC mapping
• Seamlessly backup presets to iCloud
• Play mode for easier panel and keyboard interaction
• A new take on the classic feedback/overload path
SUPPORTS
• All 64-bit iOS devices
• AUv3 Audio Unit Extensions (Including GarageBand)
• Note-per-channel MIDI controllers
• Ableton Link
• Inter-App Audio and Audiobus
• 7 and 14-Bit MIDI
• MIDI Program Changes
• Bluetooth LE MIDI controllers
• Share over AirDrop, Mail or other iOS applications
Info: MOOG MUSIC