Musikmesse 2018: Line 6 unveils Echo Farm 3
The new plug-in emulates vintage units such as Roland RE-E101 Space Echo and TC Eletronic 2290.
Line 6 has released Echo Farm 3.0, a 64-bit plug-in for Pc/Mac DAW. Echo Farm was introduced for the first time in 2001 as a Pro Tools TDM plug-in. This plug-in features models based on vintage renowed hardware units such as the Roland RE-101 Space Echo, Boss DM-2, Electro-Harmonix Memory Man, TC Electronic 2290, and Maestro Echoplexes, plus Line 6 originals.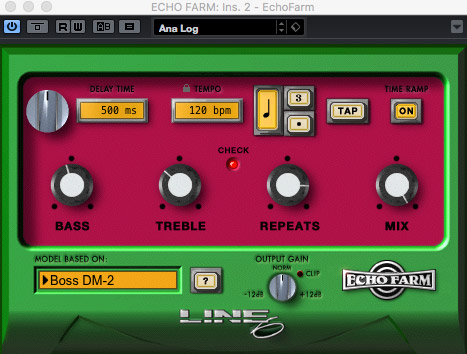 Echo Farm 3.0 is fully programmable and automatable, providing total control over the sound and responsiveness of every model—including tape wow n' flutter, swept-filter modulation speed, bit resolution, and more. Lock to the global tempo of your session, following any tempo variations, or quickly set the delay time manually via a virtual knob, tap tempo, or by selecting BPM and note value. The unique Time Ramp feature also lets you create realistic pitch-smear effects when adjusting delay times on tape- and analog-type delays.
Supporting Audio Units and VST in addition to AAX Native, Echo Farm 3.0 works with all popular DAWs. Bring classic echo sounds to any project with 64-bit native performance and support for sample rates up to 192 kHz. Pro Tools users will appreciate full backward compatibility and the ability to open old sessions without losing previous sounds or settings. Price: $199.99.
Info: LINE 6