Musikmesse 2018: Nektar introduces Pacer
From the renowed american company a new fully-programmable DAW/MIDI Footswitch Controller.
Nektar Technology unveils PACER, a hands-free DAW and MIDI controller with plenty of switching power for soft- and hardware solutions. The new device comes preconfigured for most popular DAWs, MIDI guitar products such as Line 6, Kemper's Profiler and even provides standard amp switching. With programmable color selection for switches there is plenty of scope for user-configurable setups for VST plugins or any MIDI controllable hardware.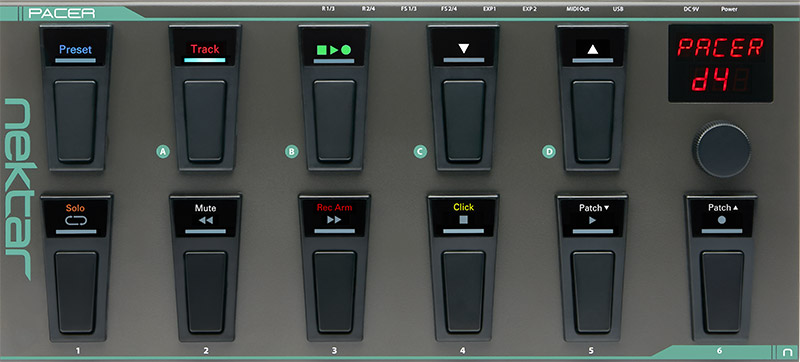 Each PACER's control is fully programmable with up to 6 steps – each step sending a MIDI message or executing an action. These steps can be sent simultaneously or consecutively in a sequence of presses. Each press can trigger a different command if required – from a MIDI-CC message to a relay state. This is also true for the external expression and footswitch pedals: A footswitch could be used to control a completely user configurable preset chain for example.
Transport control of practically any DAW and the switching of many MIDI guitar devices works right out of the box, as PACER's 24 factory presets include setups for MIDI Machine Control, Mackie Control Universal (MCU) and devices such as Line 6 Pod and Helix or Kemper's Profiler. Support for Mackie MCU enables the control of compatible DAWs like Ableton Live or FL Studio. Additionally, custom Nektar DAW integration software for popular DAWs such as Logic, Bitwig, Cubase, Reason and others is available to registered users as a free download, providing access to even more advanced control. PACER's MIDI output can be used as a USB MIDI interface, for direct MIDI connection or both at the same time.

FEATURES AND SPECIFICATIONS
10 programmable footswitches each with RGB LED
1 preset footswitch
2 row LED display
1 encoder with push switch for programming, navigation and control
24 user configurable presets
2 Read-only presets for DAW track and transport control
Sends up to 16 MIDI messages or relay switches on preset recall
Up to 6 MIDI messages or actions programmable for each control
2 expression pedal sockets
2 TRS jack connectors for up to 4 external footswitches
2 TRS jack connectors for controlling up to 4 switch sockets (FX or channels)
MIDI output (USB MIDI interface/direct MIDI connection)
USB connector for connecting to a computer, USB host or USB power supply (for power only)
PSU socket: DC 9V / 600mA, center negative (PSU not included)
Factory Presets include Line 6 Pod and Helix, Fractal Audio AxeFX, Avid Eleven Rack, Kemper Profiler, Elektron Octatrack Pickup Machine, Electro Harmonix 45000 Looper, MIDI Machine Control, a Relay Preset for non-MIDI amps and more.
Nektar DAW integration for Transport and Track control
PACER Nektar DAW and MCU Integration currently supports:
Apple Logic and Garageband, Bitwig 8-Track and Studio, Cockos Reaper, Propellerhead Reason, Steinberg Cubase and Nuendo
Info: NEKTAR