Audified released GK Amplification 3 Pro
The new virtual effect, designed to recreate exact models of Gallien-Krueger amps and speakers
GK Amplification 3 Pro is the next step in the evolution of this fan-favorite plugin. With three exceptionally modeled amps, added Smart Gate, Compressor and reworked UI, GK3 Pro is the most advanced GK amp sim out there. Let's get a first look.
MB150 AMP
Based on a small, portable-yet-powerful combo, it's perfect for a variety of sounds – from jazz to rock. With extensive EQ controls and voicing filters, you will craft the ideal mix-ready sound in seconds.
2001RB AMP
The amp which defined the classic GK sound, featuring two channels, powerful Bi-amp technology, and EQ and Voicing controls.
800RB AMP
The legend from the 80s which changed the transistor amp game. The flexible tone-shaping, voicing filters, and variable crossover frequency that shapes the sound to perfect mix-ready sound.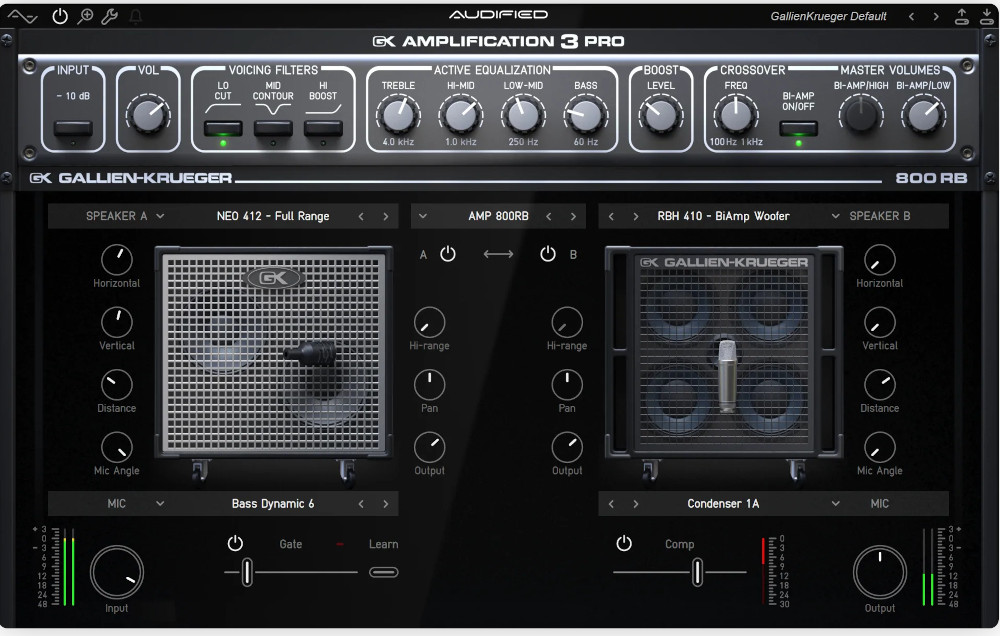 CABINETS
Three matching cabinets, each with both woofer and tweeter options. Compare cabinets easily with the A-B control to find the perfect pair for your desired sound.
MICROPHONES
Exact models of 9 industry standard microphones, used for recording and live playing. Various controls allow you to change the position, angle, and distance of the microphone, giving you even more flexibility when it comes to shaping your sound.
GATE & COMPRESSOR
Newly added Smart Gate with an intuitive Learn function sets the perfect threshold in a few seconds. Compressor with simple control, tuned to sound good in every situation – from your home studio to gigging.
Info: Audified