The new guitar FX processor boasts record and re-amp via USB up to 24bit/96kHz
HeadRush has released MX5, a very compact and useful FX and amp modeling processor designed for guitarists. Equally suited to home recording or live performance situations, the HeadRush MX5 is incredibly portable at just 3.5 lbs. (1.6 kg) and can fit in most backpacks or instrument cases. Center stage on the HeadRush MX5 is an ultra-responsive 4-inch touch display and a guitarist-centric, intuitive user interface – literally touch, swipe and drag-and-drop to instantly create rigs with lightning speed and precision.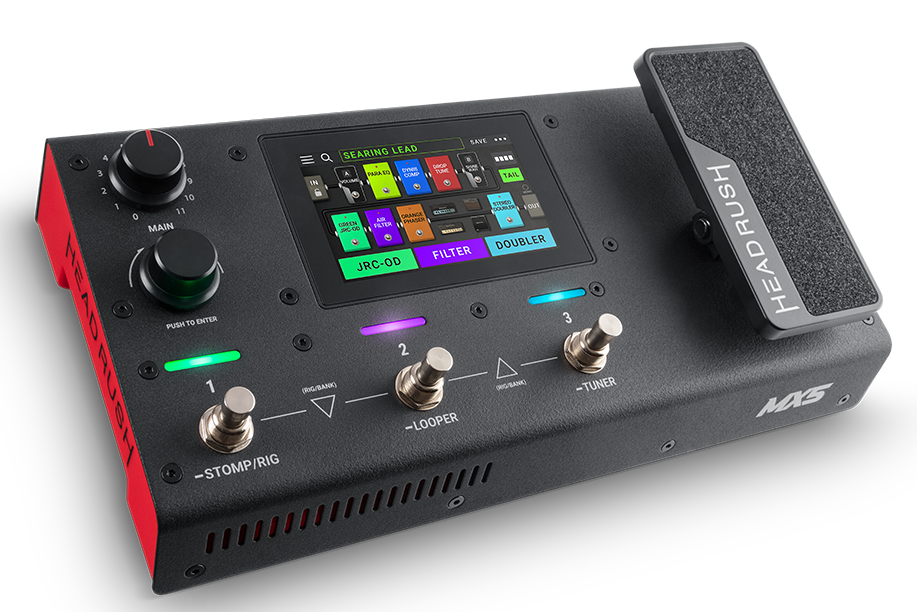 The HeadRush MX5 packs a big punch of tone with an immense library of 46 amplifier models, 15 cabinets with 10 microphone emulations, 300 impulse responses, and 63 premium FX. To control the sound, MX5 features footswitches that toggle 3 models or scenes, change rigs, or access your setlists. Quickly switch between the footswitch modes by holding footswitch 1 to select your desired mode. You can also select setlists, enter hands-free mode, and lock the touch display from this menu.
Furthermore, HeadRush MX5 has an advanced built-in looper that you can use to layer parts during performances, or use as a songwriting tool when inspiration strikes. You can load .WAV and .MP3 audio files into the Looper to play along with backing tracks; you can also save your new loops as .WAV files and export them to your Mac/PC via USB Transfer Mode for sharing with the world. Each loop has a maximum length of 5 minutes, and can hold up to a whopping 20 minutes of layered audio at a time.
FEATURES
– Custom-designed DSP system with powerful multi-core processing
– High-resolution 4" touch display with guitarist-centric interface
– Versatile library of realistic & responsive amplifier, cabinet, mic and FX models
– Gapless preset switching with reverb/delay tail spillover
– Load virtually unlimited custom impulse response files
– Hands-free edit mode for quick on-the-fly live editing
– Looper with save and load loop features
– Built-in expression pedal with toe-switch and adjustable tension
– Stereo FX loop for external FX or 4-cable connectivity with guitar/bass amps
– 1/8" (3.5mm) aux input, 1/8" (3.5mm) headphones output; MIDI input and output
– Record and re-amp via USB (up to 24-bit/96kHz)
Info: HeadRush