IK Multimedia released SampleTron 2
The new virtual instrument boasts a 8GB sample library to emulate Mellotrons, Chamberlins, Optigans and others rare pieces.
SampleTron 2 combines the powerful sound engine of IK's award-winning SampleTank 4 with our industry-leading tape modeling technology to recreate the distinctive, ultra-vibey sounds of tape-based samplers from the '60s and '70s, along with quirky early digital sample players and vocoders. This comprehensive collection features deep sampling of vintage Mellotron and Chamberlin tapes, a collection of new acoustic "non-Tron" sounds with tape processing, and now enables you to load your own samples and create modern audiophile Tron sounds that are uniquely yours.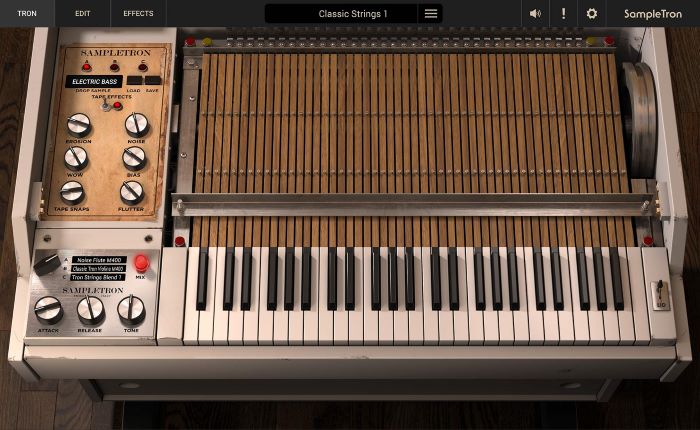 IK Multimedia SampleTron 2 comes with a vast library of over 400 "tracks" that you can load into any preset—up to 3 at once—and then individually process with IK's cutting-edge tape modeling DSP for ultimate tone-shaping flexibility. SampleTron 2 includes a powerful set of effects to give each performance exactly the depth and dimension your music needs. Effects include a Channel Strip equalizer and compressor, Tape Echo, Multimod—with selectable chorus, ensemble, flanger, phaser, Uni-V and Rotary Speaker—and the new Vintage Plate Reverb that's based on the Plate algorithm developed for AmpliTube 5 and MixBox. SampleTron 2 works as a standalone app or as a plug-in, and it can also be used as a library in SampleTank 4 to expand its world of sounds. 
FEATURES
– 8GB virtual instrument collection of sought-after vintage and tape-based samplers
– Over 400 tracks sampled from vintage Mellotrons, Chamberlins, Optigans and other rare pieces
– Each preset can load three tracks to split, layer and solo from over 400 available
– Features a collection of modern non-Tron and vintage digital sample-based instruments
– Includes the full content of IK's original SampleTron updated for legacy users
– Sample loading function creates user Tron sounds with IK's tape modeling DSP
– Superb rack effects include Channel Strip, Tape Echo, Multimod and new Vintage Plate
– Standalone operation or SampleTron 2 can be played as a library inside SampleTank 4
You can buy SampleTron 2 for €199 (VAT excluded)  on IK Multimedia Store
Info: IK Multimedia