SpitFire Audio released Oliver Patrice Weder – The Pool Project
A toolkit of unique timbres created by contemporary composer for composers
To realize Oliver Patrice Weder – The Pool Project sample library, Spitfire Audio's sound engineers has recorded a wide variety of instruments and techniques in the remarkable setting of a reverberant pool house — surrounded and inspired by nature. Ranging from intimate chanting solo and trio vocals to breathy woodwind swells and circular breathing techniques.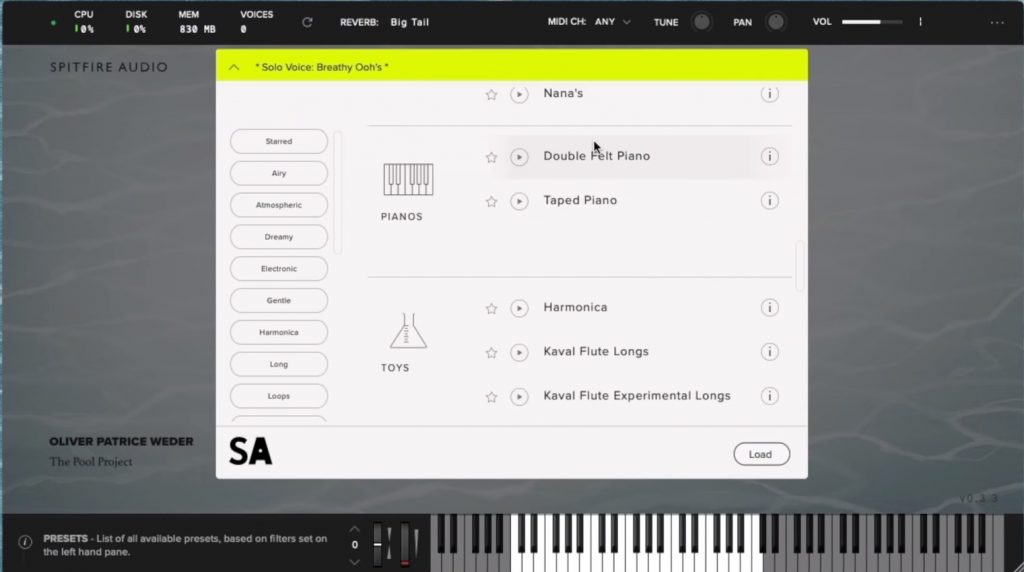 From personalised piano sounds and delicate percussion to shimmering organic and electronic loops, carefully curated and sculpted to blend together perfectly and presented in Spitfire Audio's award-winning dedicated plug-in — with a range of bespoke controls, effects and reverbs. Adding a much sought-after human quality and fragility to your music, these transcendental textures are suited to intimate film scores and contemporary classical or ambient tracks alike. 
Contemporary composer, producer and artist Oliver Patrice Weder discovered his love of keyboards after hearing the sound of Ray Manzarek (The Doors), and spent his formative years playing classical and jazz piano in the rainy foothills of the Alps. After recording and touring across Europe with various bands, including psychedelic rock band Time for T, he studied at Valencia's Berklee College of Music, where he established his passion for film music. As well as composing for the BBC, Oliver is the lead composer at pioneering British music technology company, Spitfire Audio.
FEATURES
— Available in Spitfire Audio's award-winning, dedicated plug-in
— 40 exclusive presets: Vocal Trio (6), Gentle Breeze (6), Solo Voice (7), Pianos (Double Felt & Taped), 'Toys' (5), Percussion (4), and Synth Loops (10)
— A range of specially curated in-built effects and controls, providing a wealth of complex sonic possibilities to drastically control and manipulate each of the presets: Dynamics, Expression, Attack, Release, Reverb, Stretch (controlling the speed of the sample playback), Distort (taking the organic samples to a completely new place), Variation (to switch between different variations of the sound), as well as Key Release and Pedal controls on piano presets
— 13 specially curated IR reverbs
— Dynamics fader moves the signal from Close to Room on the organic patches, and controls the arpeggiator speed on the synth patches
— Two stunning piano sounds created from a mellow 60s Petrof, treated with felt and tape
— Each sound is velocity sensitive for varying tones
Info: SpitFire Audio