Yamaha launches three new compact mixing consoles
The new MG-X models are designed for the live and installed sound applications where high quality SPX effects are needed.
Yamaha introduces a new mixing console lineup: MG-X. The series feature three models: MG10-X, MG12-X and MG16-X. All three MG-X models feature a robust metal chassis and can be quickly and easily installed wherever needed. The MG10X can be installed on a microphone stand with the optional BMS-10A adaptor, while the MG12X has an optional 19-inch rackmount kit and the MG16X has integral fixings for rack mounting.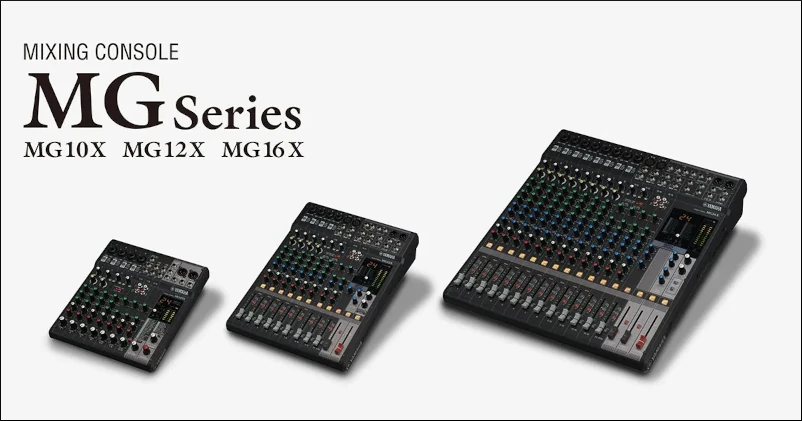 MG-X models also feature a master section in a contemporary new grey colour, which will blend into the equipment space while providing an instant visual reference for quick location of the master controls. Furthermore, MG-X console boast high-quality and renowned SPX effects. The MG-X's SPX effects work harmoniously with discrete D-PRE mic preamplifiers and custom made MG01 operational amplifiers to deliver stunning quality sound, which is easily adaptable to any space. In addition, "1-knob" compressor gives users instant access to optimized compression settings for speech, vocals and instruments via a single rotary control.
YAMAHA MG10X
10-Channel Mixing Console: Max. 4 Mic/10 Line Inputs (4 mono + 3 stereo)/1 Stereo Bus/1 AUX (incl. FX)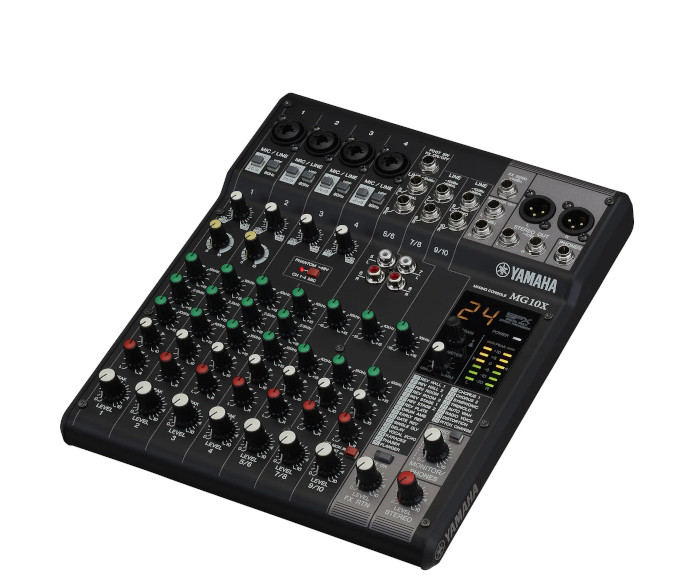 – 10-Channel Mixing Console
– Max. 4 Mic / 10 Line Inputs (4 mono + 3 stereo)
– 1 Stereo Bus
– 1 AUX (incl. FX)
– "D-PRE" mic preamps with an inverted Darlington circuit
– 1-Knob compressors
– High-grade effects: SPX with 24 programs
– PAD switch on mono inputs
– +48V phantom power
– XLR balanced outputs
– Metal chassis
– Dimensions(W×H×D): 244 mm x 71 mm x 294 mm (9.6″x 2.8″x 11.6″)
– Net Weight: 2.1 kg (4.63 lbs.)
YAMAHA MG12X
12-Channel Mixing Console: Max. 6 Mic /12 Line Inputs (4 mono + 4 stereo)/2 GROUP Buses + 1 Stereo Bus/2 AUX (incl. FX)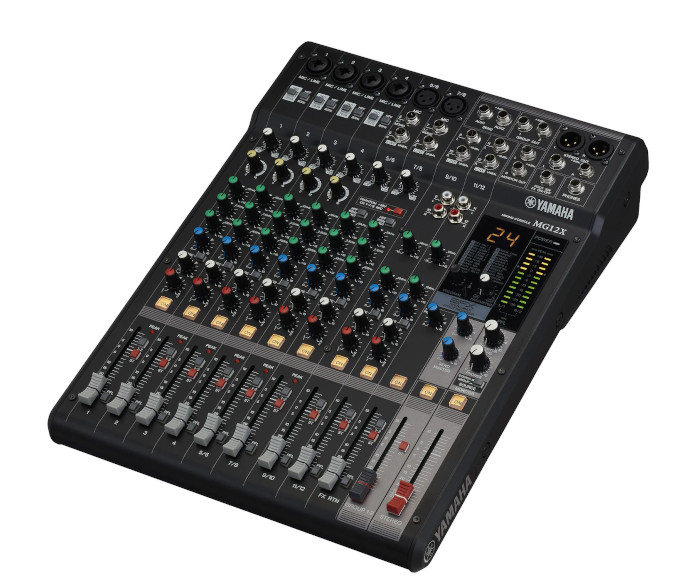 – 12-Channel Mixing Console
– Max. 6 Mic / 12 Line Inputs (4 mono + 4 stereo)
– 2 GROUP Buses + 1 Stereo Bus
– 2 AUX (incl. FX)
– "D-PRE" mic preamps with an inverted Darlington circuit
– 1-Knob compressors
– High-grade effects: SPX with 24 programs
– PAD switch on mono inputs
– +48V phantom power
– XLR balanced outputs
– Internal universal power supply for world-wide use
– Optional Rack Mount Kit RK-MG12 Available
– Metal chassis
– Dimensions(W×H×D): 308 mm x 118 mm x 422 mm (12.1″ x4.6″ x16.6″)
– Net Weight: 4.2 kg (9.3 lbs.)
YAMAHA MG16X
16-Channel Mixing Console: Max. 10 Mic/16 Line Inputs (8 mono + 4 stereo)/4 GROUP Buses + 1 Stereo Bus/4 AUX (incl. FX)
– 16-Channel Mixing Console
– Max. 10 Mic / 16 Line Inputs (8 mono + 4 stereo)
– 4 GROUP Buses + 1 Stereo Bus
– 4 AUX (incl. FX)
– "D-PRE" mic preamps with an inverted Darlington circuit
– 1-Knob compressors
– High-grade effects: SPX with 24 programs
– PAD switch on mono inputs
– +48V phantom power
– XLR balanced outputs
– Internal universal power supply for world-wide use
– Rack Mount Kit Included
– Metal chassis
– Dimensions(W×H×D): 444 mm x 130 mm x 500 mm (17.5″ x 5.1″ x 19.7″)
– Net Weight: 6.8 kg (15.0 lbs.)