Black Roster Audio has released RO-SPR
The new plug-in is modeled on a vintage spring reverb, one of the most used hardware reverbs in the music production history.
RO-SPR  is an authentically modelled vintage spring reverb plug-in injecting character and just the right amount of psychedelic flair into anyone's DAW driven productions by capturing the tone of multiple sought-after hardware classics, conjuring up the iconic sound of 'Hendrix & Co.' with its 6 spring types, a three-band EQ, as well as spring length and mode control.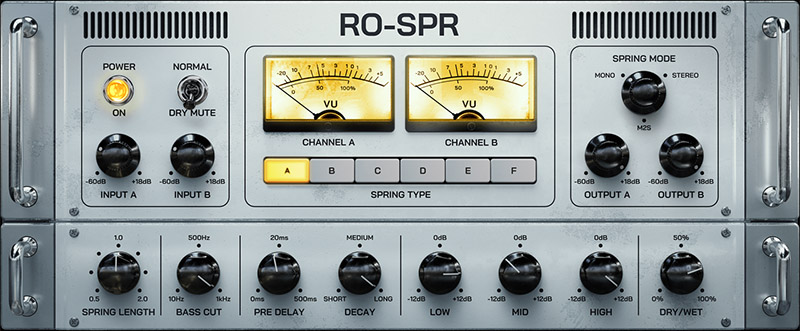 The Spring Reverb is one of the most used hardware reverbs in studio history, but unlike bulky plate reverbs that could easily cost thousands of dollars, and weighed around 600 pounds each, most spring reverbs are more space- and cost-efficient. Furthermore, Soundwise, spring reverbs are often described as being 'bouncy' or 'ringy', due to their mechanical layout, which tends to be low-end heavy. The RO-SPR will throw you back in time with its very unique collection of classic spring types, while adding modern-day features to tailor each section precisely to needs of modern music production.
The RO-SPR comes with 6 very unique spring types that have been faithfully modeled after their hardware counterparts, covering 4 decades of sound experiments, innovation, and heavy studio usage. RO-SPR allow you to Fine-tune spring reverb experience by adjusting the length and decay, taking you all the way from classic room reverberation to psychedelic space design. In order to further tame the very specific spectral behavior of the spring, RO-SPR features a 3-band EQ to this plug-in. As springs tend to be naturally low-end heavy, with less mids or high-end, this can be equalized in the EQ section. RO-SPR is avalaible at Black Rooster Audio's website at introductory price of €55.
Info: Black Rooster Audio