G-Sonique unveils NeuroFunker XG6
Designed for Audio Unit and VST Daw, the new virtual instrument is designed for Drum&Bass and Experimental music styles.
Neurofunker XG6 is modern plug-in multi-instrument/rompler created for Drum and Bass/Neurofunk music producers, but can be used in other bass music styles (dubstep, half-beat) or experimental genres.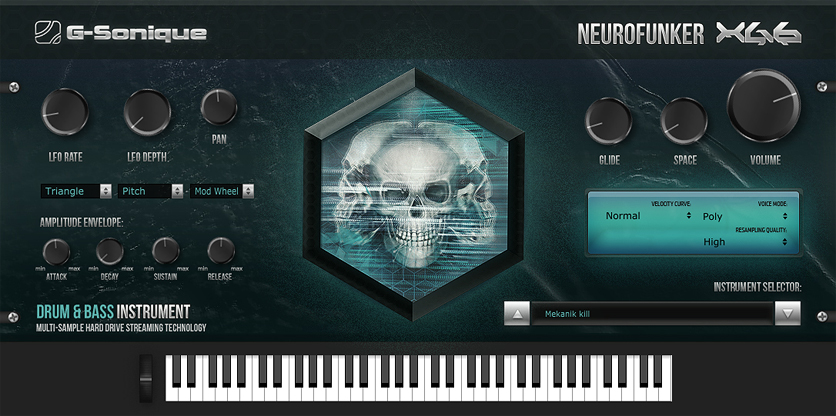 Neurofunker XG6includes 146+ high quality, multi octave/multi-layer instruments/sounds ready for music production.  This plug-ins includes various styles of dnb basslines, modulated bass, futuristic bass, deep bass, various sci-fi hits, subbass sound, leads and much more. The Full Version Neurofunker XG6 includes huge library of 890 MB internal files packed together with plug-in.
All instruments/sounds can be additionally modified with LFO (rate and depth) modulating volume/expression, Panning, Pitch, Amplitude Envelope – attack, decay, sustain,  release, Pan, Space, you can choose glide (+ glide time), mono, legato or polyphonic modes, load additional bonus instruments etc. You can layer two or more instruments together to create new kind of sounds (use two Neurofunker XG6 Layered together with different instrument/preset but with same melody) and use various external G-Sonique VST effects to modify the sound to brand new level.
Neurofunker XG6 uses special multi-sample/multi-octave Hard drive streaming technology which saves your RAM (data are loaded from hard drive) with precise hiqh quality sound interpolation. Neurofunker XG6 is available for Windows and Mac (VSTi plug-in in x32/x64bit for Windows, VSTi plug-in for MAC, AU Audio Unit plug-in for MAC).
Introductory Price: 17,9 euros.
Info: G-Sonique