IK Multimedia unveils Syntronik Deluxe
The new version adds five virtual analog instruments, such as MemoryMoog and EMS VCS3 emulations.
IK Multimedia has released a new expanded edition of its virtual synth collection for Mac and PC systems: Synytonik Deluxe. The bundle adds five new virtual analog instruments: Memory-V, SH-V, M-Poly, VCF3 and Modulum.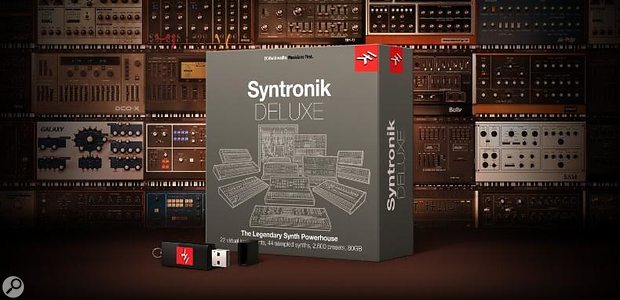 Syntronik Deluxe adds 500 new instrument presets, 18GB of new sounds, and more than 22,000 new samples for a new total of 22 synths, 2,600 instrument presets, 80GB of sound content and more than 120,000 samples.
Memory-V: IK's take on the legendary Memorymoog 6-voice, 18-oscillator monster analog polysynth from the USA. It features 148 instrument presets, 5GB, over 6,000 samples.
SH-V: Based on two highly-stylized two oscillator Roland monosynths, the SH-5 and SH-2 from Japan. It features 100 instrument presets, 4GB, over 5,000 samples.
M-Poly: Based on two iconic Korg SSM-based signature sounding analog legends, the Mono/Poly and Polysix from Japan. It features 100 instrument presets, 4GB, over 3,000 samples.
VCF3: IK's take on the ultra-rare and often peculiar sounding British tabletop modular, the EMS VCS3 from the UK. It features 106 instrument presets, 3GB, over 7,000 samples.
Modulum: Analog modular drums and percussion created with interconnected Modular Moog, EMS VCS3 and Alesis Andromeda synths. It features 108 instrument presets, 400MB, over 2,000 samples.
Users of the current Syntronik can upgrade to Syntronik Deluxe and add all 5 new synths for €/$99.99 from the IK Multimedia website.
Info: IK Multimedia