SOLID STATE LOGIC SSL 2+ (ENG)
An interesting and low cost USB-2 audio/midi interface that boasts a very rich software bundle to setup a complete workstation for music and audio production.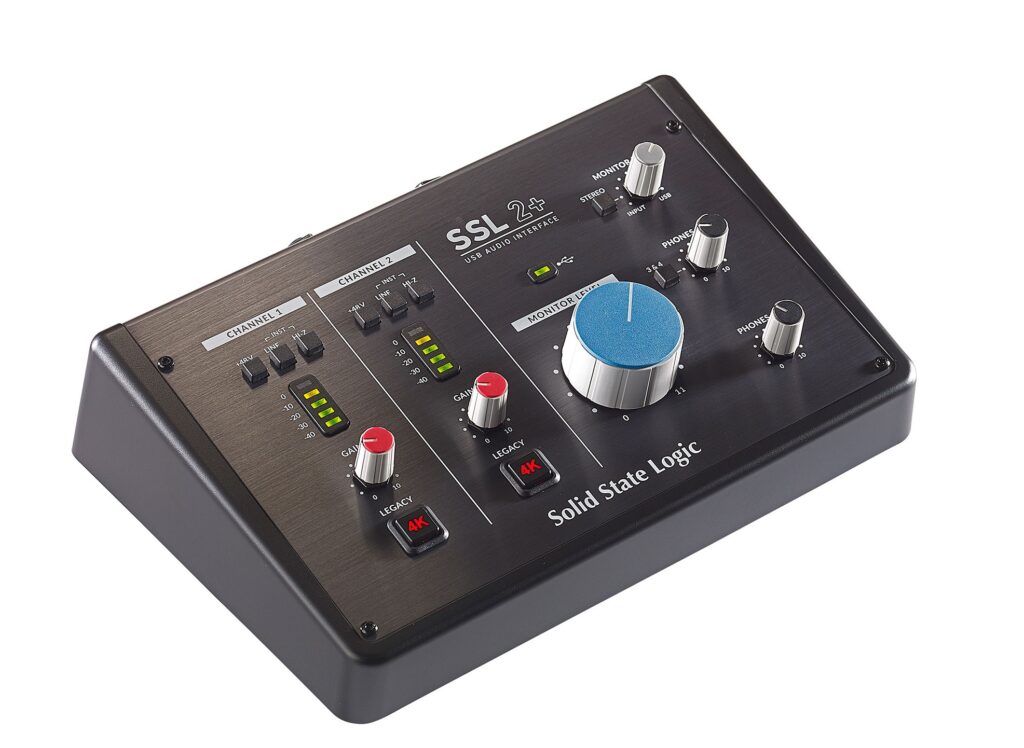 Codename SSL 2+. It's the recent audio interface by Solid State Logic for users involved in the audio and music production in the Windows and MacOS environment. Compact and ergonomically designed, SSL 2+ has a desktop-like form factor and sits comfortably on any flat surface near your computer. On board AD/DA 24bit/192kHz AKM converters, 2 class-leading microphone preamps, Neutrik connectors, Alps pots and much more.
CONSTRUCTION & ARCHITECTURE
In terms of construction, Solid State Logic's audio interface is realized with good quality materials. The chassis is made of metal and is housed in a sturdy and durable plastic frame. The control panel is essential but sufficient, which provides just enough to drive the main functions of the device: the adjustment of the output level on the main monitors, the balance between the input sources and those coming from the computer (complete with mono/stereo switch), the pre-amplification and monitoring of input sources, the adjustment of output levels from the headphone jacks.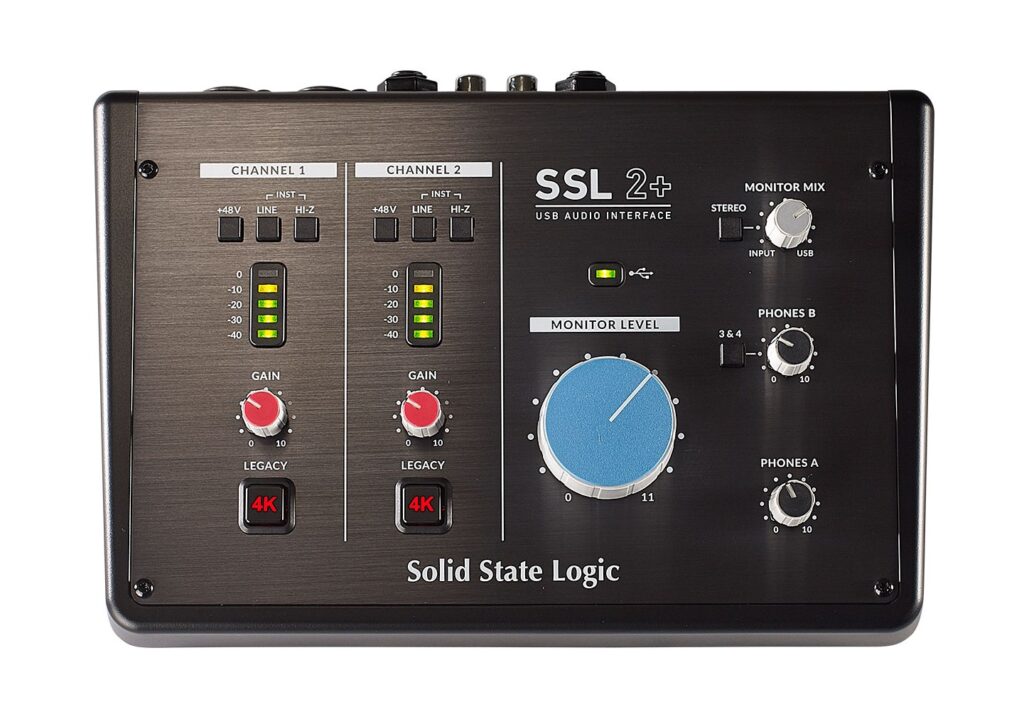 Solid State Logic SSL 2+ is powered via USB-2 connection. It offers 2 inputs, accessible from the rear panel via Neutrik ¼" TRS + XLR combo jacks. Both inputs accept microphone, line and electrified instrument sources with high impedance output (Hi-z), such as bass and electric guitar. Each input features a potentiometer for adjusting the gain, that is accessible from the control panel, two buttons for selecting the type of source (Line and Hi-z) and a switch to activate/deactivate the phantom power supply (+48V), as well as a convenient 5-LED meter to keep the signal level under control. But it doesn't stop there. In fact, on each of the inputs it is also possible to enable a circuit called Legacy 4K, using the button of the same name, which, according to the statements made by Solid State Logic, emulates the sound's character of the highly appreciated SSL 4000 series professional mixing consoles.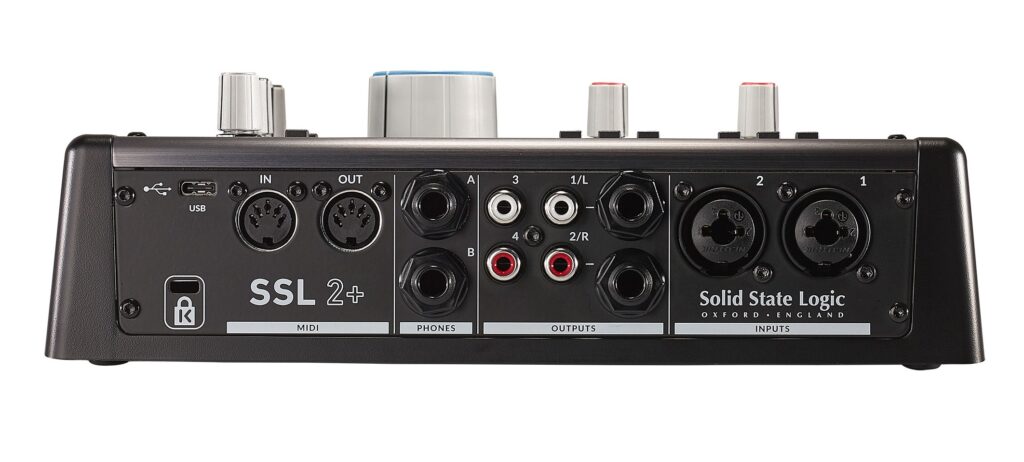 Always accessible from the rear panel we also find two MIDI ports on standard DIN 5-pin sockets, two headphone sockets on ¼" TRS jacks, stereo main balanced outputs 1-2 on ¼" TRS jacks and unbalanced on RCA, and finally stereo unbalanced outputs 3-4 on RCA sockets.
PACKAGING & EQUIPMENT
In the package a minimal equipment: in addition to the interface there are a paper card with the first instructions for installing and registering the product, necessary for downloading the supplied software, plus two connection cables: USB-2 Type-C/Type-C and USB-2 Type-C/Type-A. Speaking of software-bundle, SSL 2+ includes a set of applications that allow you to be immediately operational in terms of audio-musical production and finalization.
In particular, the SSL Production Pack boasts two proprietary plug-ins for finalizing vocals (SSL Native VocalStrip 2) and drum sounds (SSL Native DrumStrip), more than 2,000 sounds, samples and sampled instruments signed by Native Instruments (Hybrid Keys & Komplete Start), a collection of 1.5GB of ready-to-use loops born from the collaboration with Loopcloud, the Ableton Live 10 Lite loop-sequencing platform and the Avid Pro Tools First sequencer complete with BombFactory plug-ins such as BF-76, BF -2A and BF-3A. In short, there really is something for all tastes and needs.
SETUP
Very simple and intuitive, the installation procedure is completed in a few minutes. After downloading and installing the device drivers from the SSL site, simply connect the interface and that's it.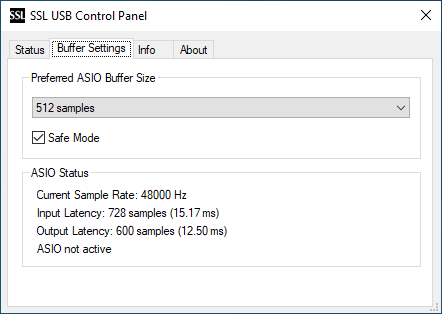 At this point we proceed with the registration of the product, also very simple. First of all, fill out the form for creating an account on the Solid State Logic website.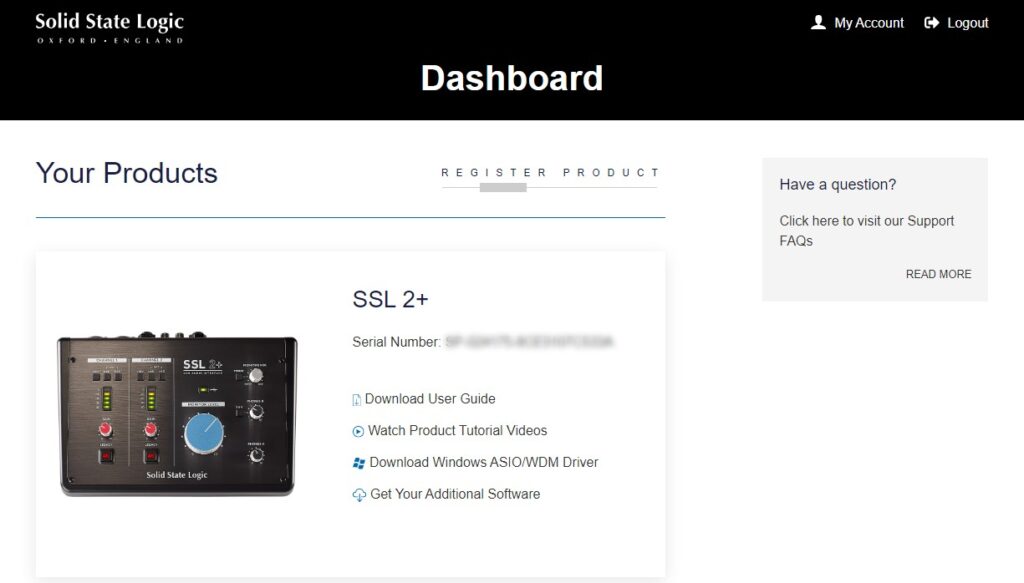 Once the account is activated, the interface is registered by inserting the serial visible under the device. Once this is done, everything is ready to download the software included in the SSL Production Pack.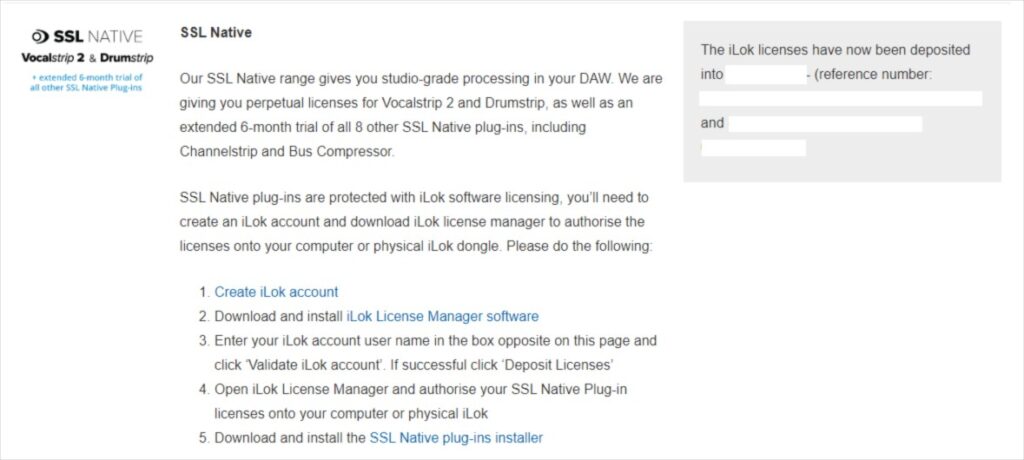 ON THE ROAD
We have been using SSL 2+ for some time trying it in different operational contexts. The interface has proved to be responsive and functionally stable. The control software panel (available only on Windows systems) is minimal but it is still a young version that can be improved and further implemented. The quality of the preamplifiers is excellent, with a range of gain that allows you to easily handle practically any type of source. Regarding Legacy 4K, judge for yourself. We acquired the sound of Modal Electronics' Cobalt 8 synthesizer using the preamps in "dry" mode and with 4K enabled. In the opinion of the writer, the difference is felt and is pleasant. With 4K enabled, in fact, the recording expresses greater airiness in the high range and a more marked three-dimensionality.
AUDIO SOURCE RECORDED WITH "LEGACY 4K" OFF (DRY-PREAMPS)
AUDIO SOURCE RECORDED WITH "LEGACY 4K" ON (WET-PREAMPS)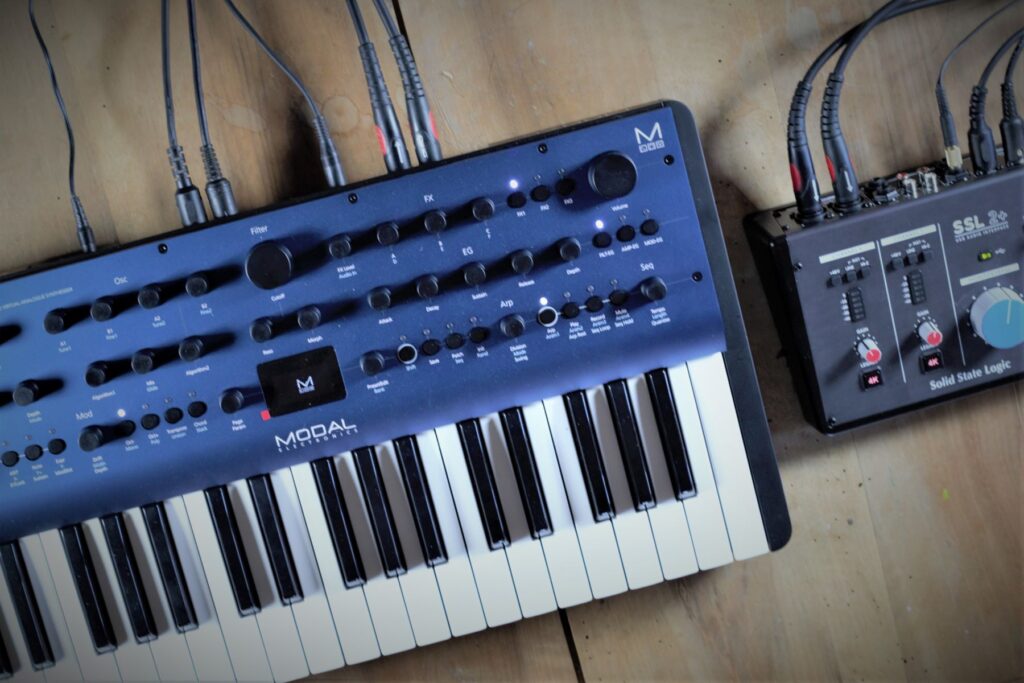 CONCLUSIONS
With a street-price of just under 250 euros, Solid State Logic SSL 2+ boasts a particularly interesting quality/price ratio, thanks also to the software bundle supplied, if you think that the SSL VocalStrip 2 + SSL DrumStrip + Native Instruments Hybrid Keys have a commercial value of around 400 euros. Well, at a fraction of the cost of purchasing the entire bundle, Solid State Logic SSL 2+ offers just enough to set up a complete and functional DAW for operational needs of a wide range of users: from DJs to musicians to young producer, but also youtubers, vloggers and videomakers who are looking for a cheap device with which to improve the quality of their work.
PROS
Preamps quality
Software Bundle
Quality/Price Ratio
4K Emulation
CONS
No external power
3-4 outputs only unbalanced
SW Control Panel can be improved
FEATURES
2 x SSL-designed microphone preamps with unrivalled EIN performance and huge gain range for a USB-powered device
Per channel Legacy 4K switches – analogue color enhancement for any input source, inspired by the 4000-series console
2 x professional-grade headphone outputs, with plenty of power
24-bit / 192 kHz AD/DA Converters – capture and hear all the detail of your creations
Easy-to-use Monitor Mix Control for critical low-latency monitoring tasks
2 x balanced monitor outputs, with stunning dynamic range
4 x unbalanced outputs – for easy connection of SSL 2+ to DJ mixers
MIDI Input and MIDI Output 5-Pin DIN Ports
SSL Production Pack Software Bundle: including SSL Native Vocalstrip 2 and Drumstrip DAW plug-ins, plus much more!
INFO
Solid State Logic – For Italian customers: MIDIWARE