Arturia released MiniFreak
Ensoniq's classic '80s Cross-Wave synth reborns
The new Arturia MiniFreak is a polyphonic hybrid keyboard that unites dual digital sound engines with analog filters, playful modulation, instinctive sequencing, and rich stereo effects for sounds that are immediately curious, beautiful, and chaotic in equal measure. MiniFreak is a monster built for playing. Enjoy polyphony that responds to your every input with a quality Slim-key keybed with aftertouch, make sweeping changes to your sound with dynamic macros, turn your melodies into dense chord stacks with Chord mode, and keep your harmony in-check with Scale mode.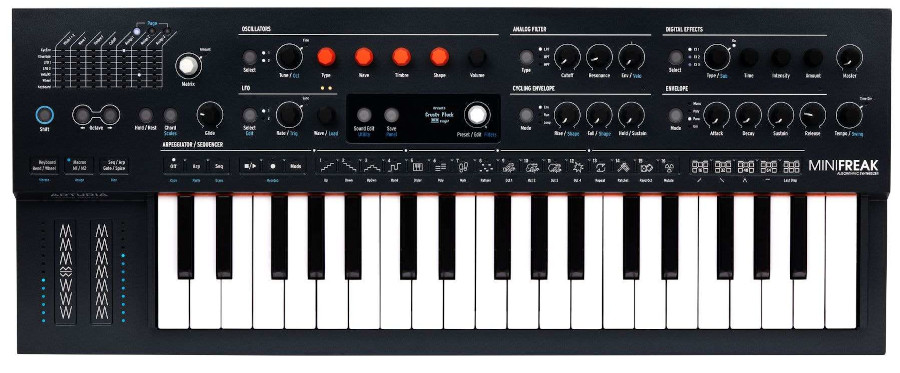 Arturia MiniFreak is designed for sound experimentation. With twin LFOs, polyphonic cycling envelopes, and customizable LFO shapes, modulate your sound engines, filters, effects – even your modulation sources themselves. Anything goes with this simple-but-powerful modulation matrix, putting any flavor of animated, evolving, or untamed sonic alteration at your disposal in seconds.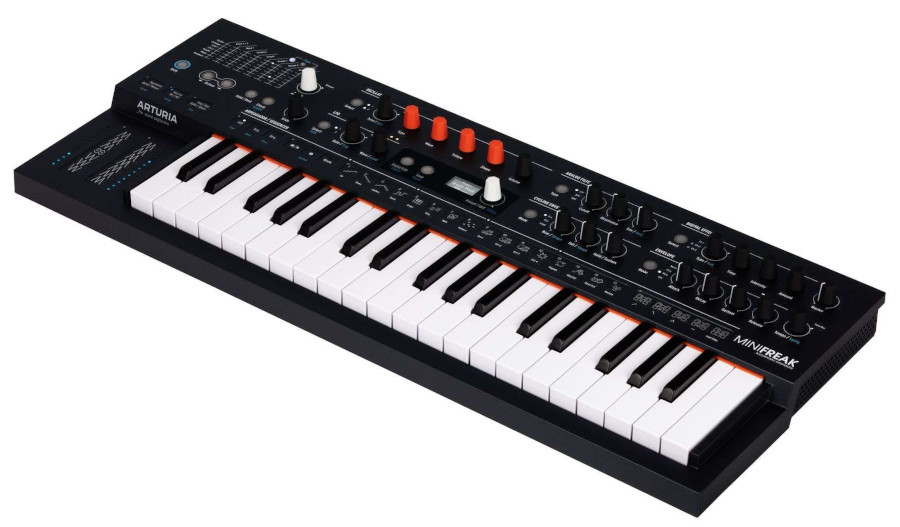 Arturia MiniFreak allows you to enjoy the same wild hybrid sound, complete with modeled analog filters, in your DAW of choice with a like-for-like VST counterpart to MiniFreak, included with the instrument for free. You can even use the same presets physically or virtually, and tweak the VST with MiniFreak's controls for a seamless creative flow. Arturia MiniFreak is available through authorized dealers for about 599 euros.
FEATURES
– 6-voice polyphonic hybrid synthesizer
– 37-note velocity-sensitive Slim-key keybed with aftertouch
– 2 sound Engines with 22 oscillator modes in total
– Engine 2 can be used to process Engine 1
– 1 envelope per voice
– 1 cycling envelope per voice
– 2 LFOs per voice
– Polyphonic analog filters and VCAs
– 6-voice polyphonic, 12-voice paraphonic, unison, or mono configuration
– 3 digital FX slots in insert or send mode, with 10 FX to choose from
– User-customizable LFO curves
– Mod Matrix with 7 sources and 13 potential destinations
– OLED display for real-time visual feedback
– Intuitive 64-step sequencer (4 pages of 16 steps)
– 4 lanes of automated modulation
– Performance Arpeggiator controls including Ratchet, Octave Randomize, and more
– MIDI in/out/thru
– USB connectivity
– Sustain, audio in, and clock in/out connectivity
– Balanced stereo outputs
– 256 factory presets
– 256 user preset slots