IK Multimedia announced Modo Bass 2
The new plug-in is the expanded edition of IK's industry-first physically modeled bass virtual instrument
IK Multimedia announces MODO BASS 2.0, the next-level edition of IK's award-winning physically modeled bass virtual instrument, adding 8 new basses, including new fretless and upright options, a brand-new patterns section with thousands of grooves, advanced performance controls and more ways to enter the MODO BASS world. MODO BASS 2.0 includes the 14 original iconic basses plus 8 exciting new ones, for a total of up to 22 basses included to cover any style of music. There are 6 new electric models featuring 2 legendary fretless basses plus 2 double-bass instruments. And with the power of MODO BASS synthesis, users can turn any standard 4-string electric bass into a 5- or 6-string bass for unmatched sonic options.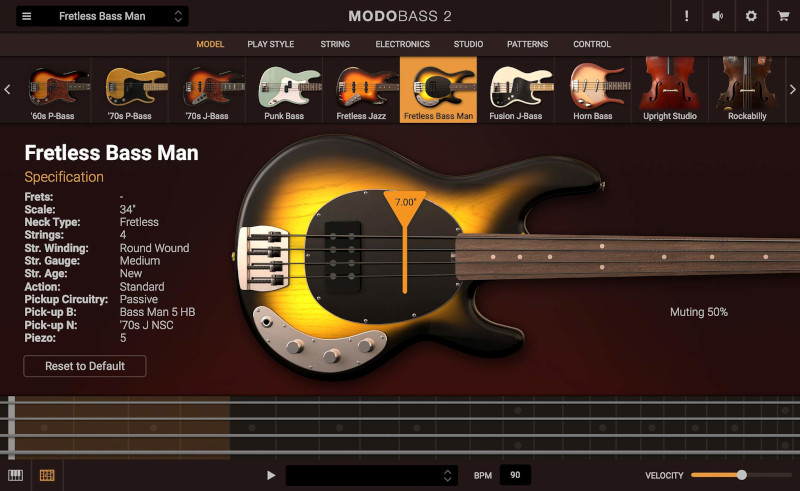 MODO BASS 2 will ship in April 2022 and is available now for preorder from the IK Multimedia online store and from IK authorized dealers worldwide:
– MODO BASS 2 CS Free – includes 1 bass. The purchase of any additional bass à la carte adds the fretless feature and the full suite of patterns.
– MODO BASS 2 SE €149.99 – an accessibly priced version with 4 basses including the new Punk Bass.
– MODO BASS 2 €299.99 – the full version with 22 basses including all 8 new ones. Available for €199.99 as a crossgrade to users owning IK products €99.99 and up.
– Individual MODO BASS Basses €69.99 each – available to CS and SE users.
– MODO BASS 2 + MODO DRUM 1.5 bundle €399.99 – includes all 22 basses and 13 kits. Special crossgrade and upgrade pricing available starting from €199.99.
All owners of MODO BASS 1 can upgrade to MODO BASS 2 for a limited time for only €149.99.
FEATURES
– Groundbreaking real-time modal synthesis technology
– Up to 22 basses including new double basses and fretless models
– Advanced performance algorithms for incredible realism
– Adjust every elements of any bass: strings, neck, body, electronics, even go fretless
– Control the entire act of playing bass – play style, hand position
– New patterns section with grooves indistinguishable from the real thing
– New Custom Shop and SE versions let you add new basses any time
Info: IK Multimedia