IK Multimedia announced two new audio interfaces
iRig Stream Solo and iRig Stream Pro allow to connect and mixing different audio sources for mobile music production with iPhone, iPad, Android devices and Mac or Pc.
iRig Stream Solo is an easy-to-use audio interface for iPhone, iPad and Android devices that allows you connect up to 3 distinct sources and mix them into your stream. Connect mixers or keyboards, your earbuds or iRig mics, and even audio played right on your device, and mix them together into a signal that's optimized for streaming and sent straight to your favorite apps. iRig Stream Solo works with any app that records or streams audio or video. To get start, it includes iRig Recorder 3 LE (iPhone/iPad/Android) – an easy-to-use, high-quality audio and video recording app.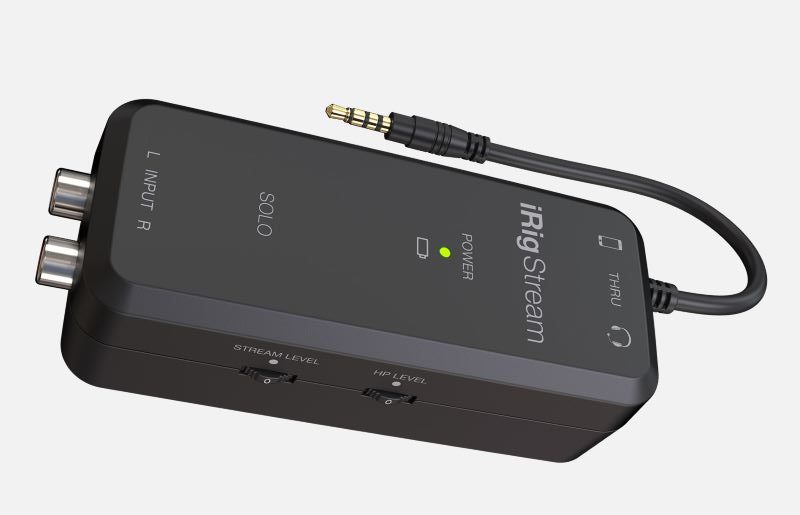 iRig Stream Pro is a 24-bit/96 kHz 4-in/2-out audio interface for iPhone, iPad, Android and Mac/PC that features a XLR mic preamp, stereo RCA, TRRS and device inputs (loopback) – plus advanced routing, convenient controls and total portability. iRig Stream Pro offers a pristine mic preamp with true +48V phantom power to connect studio microphones with stunning sound, switching to Hi-Z for your favorite guitar or bass.
Among iRig Stream Pro's hot features stands outLoopback+, a powerful new feature that lets you route either or both channels 3 and 4 to audio apps such as MixBox, AmpliTube or VocaLive for processing and then route their outputs through the Loopback feature and into channels 1+2 going to your streaming app. iRig Stream Pro is powered by two AA batteries, but you can connect it also via bus power via USB on your Mac/PC for battery-free operation, or with a an optional PSU, that allows you to power iRig Stream Pro and keep your iPhone or iPad charged as well for even the longest sessions.
Info: IK Multimedia