Solid State Logic released Native X-Echo
 X-Echo Plug-in is a new tool aimed at musicians, producers and engineers inspired by the sound of legendary tape delays of the '60s and '70s.
Available in several formats including VST2, VST3, AAX and AU at a cost of $199 or as part of the SSL Complete Bundle Subscription from $14.99 per/m, X-Echo is inspired by the distinctive sound of early tape delay hardware of the 1960s and 1970s. Other features of X-Echo include EQ Loop/filtering and SSL Mix Lock. There is a custom 'Diffusion' control, as well as a built-in in 'De-esser' — useful for controlling buildups of energy at certain frequencies and sibilance that tape echoes often accentuate.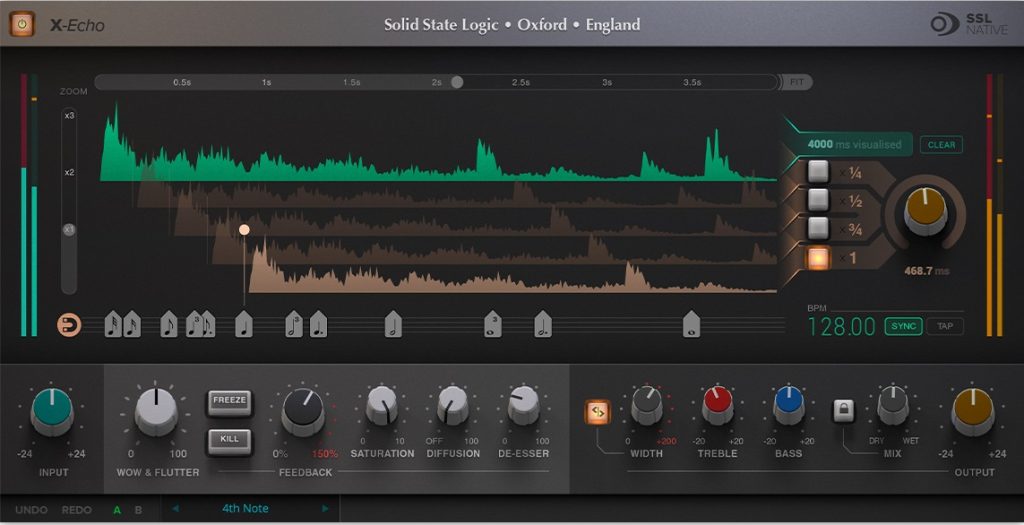 X-Echo combines tape-style signal degradation and soft compression with classic SSL-style distortion characteristics, accessible with dedicated 'Wow & Flutter' and 'Saturation' controls. The plug-in also features 'Feedback' control and 'Freeze' and 'Kill' functions, ideal for controlling delay length and buildups. X-Echo's also includes unique 'Stereo Width' processor which uses a custom phase shifting technique, allowing users to control the width of their delay lines.
Info: Solid State Logic