The new futuristic, cyber-like MIDI wind controller instrument features responsive RGB light bars, motion control, Bluetooth connectivity and customizable hotkeys.
It is true to say that the most distinguishing design feature of the Wind Synthesizer R1 is how much of its slimline body actually lights up. Ultimately, an extra dimension of musical expression responds to the player's breath, glowing to the tune of over 60,000 colors — customizable in JamKoo, Robkoo's popular performance app for iOS and Android that automatically detects (via Bluetooth) when a Wind Synthesizer R1 is nearby and awake to provide access to all settings on a larger screen, as well as a dummy-proof guide to learning — courtesy of two lengthy, patent-protected RGB light bars with which the futuristic, cyber-like MIDI wind controller instrument is equipped. It is also the only such instrument that can be played both vertically and horizontally, whether working with the (removable/replaceable) food-grade mouthpiece manufactured from the same material as a baby pacifier for utmost health protection or the new horizontal mouthpiece, making for a cyber-flute-like performance action.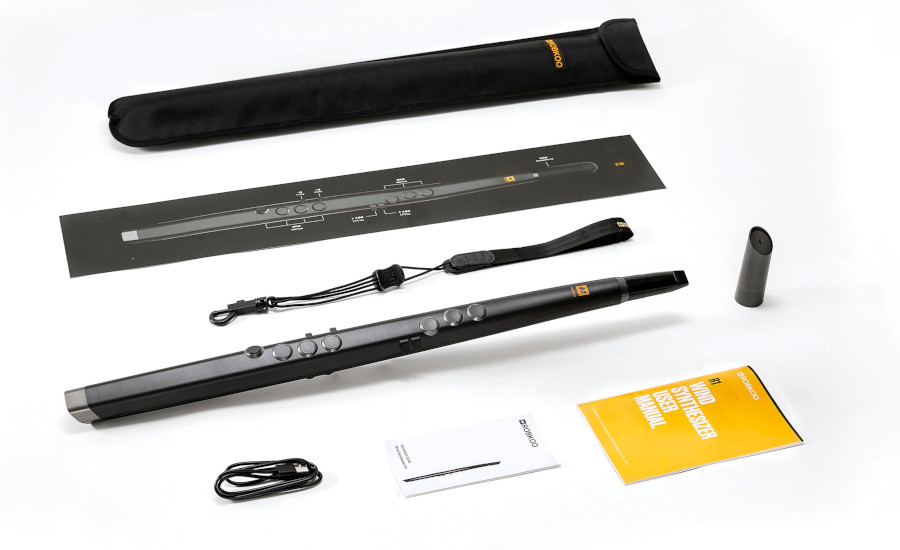 Its inbuilt gyroscope lets Wind Synthesizer R1 players spice up their performance with pitch bend and vibrato by simply moving the MIDI wind controller instrument itself. Indeed, performing with it is simply a case of playing the seven touch-sensing performance keys (positioned on its topside) — themselves exhibiting minimal noise and maximum durability — that resemble an acoustic instrument to permit playing expressively in a realistic and graceful way while switching tones in an instant, ably assisted by an OLED (Organic Light Emitting Diode) screen that even helps with navigating in the dark. Delve instantly into wider octaves beyond the limitations of acoustic instruments thanks to the triple-octave (-1, 0, +1, +2) keys (on the underside of Wind Synthesizer R1), while a reliable and intuitive mechanical pitch wheel lets performers pitch freely with their thumb — also customizable to trigger other controls like portamento.
Info: RobKoo