UDO ships Super 6 Desktop
A full featured Super 6 Analog Hybrid 12-Voice Synthesizer in a beautifully designed, compact, portable, all metal desktop chassis
UDO Audio released Super 6 Desktop, a combination of a powerful and accessible musical instrument with flexible and immediate control, realistic analog sound and build quality. Super 6 Desktop boasts a Analog Hybrid 12-Voice Synthesizer in a beautifully designed, compact, portable, all metal desktop chassis. UDO Audio said:
"The Super 6 is a result of years of hard work and many iterations of development. My mission with the Super 6 has been to harmonise what I love about archetypal electronic instrument design with modern, novel synthesis technologies that excel at generating spatially dynamic results. The architecture leverages the vibrancy of a true-stereo analog signal path, driving it with extremely high sample rate, spectrally versatile, digital audio and presents you with straightforward, expressive controls of superior mechanical build quality."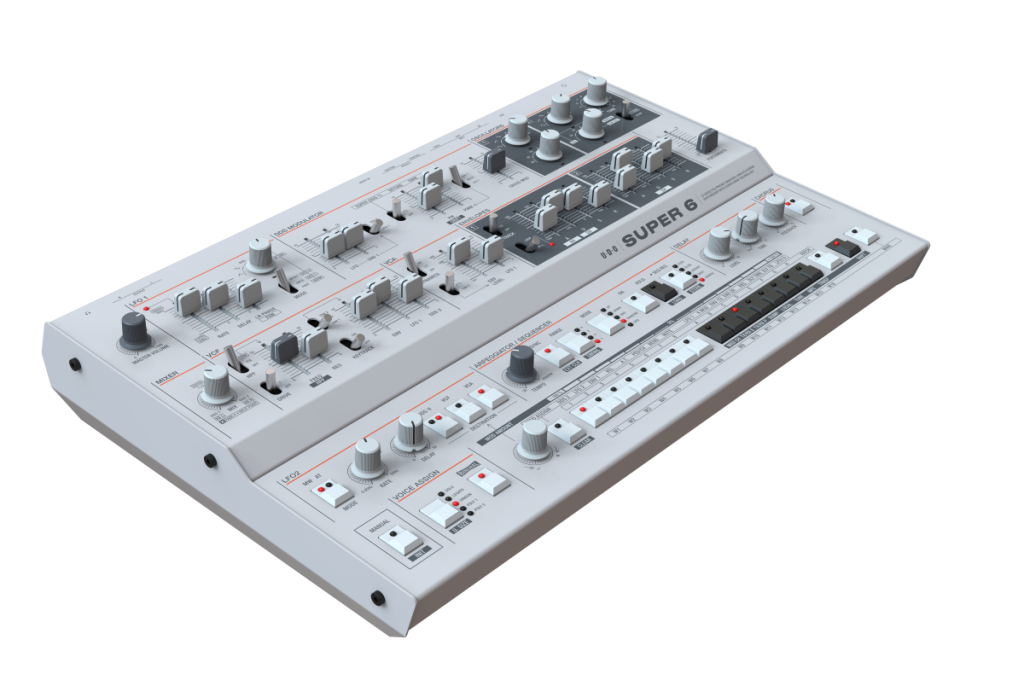 The Super 6 Desktop is available through UDO's growing global network of dealers (https://www.udo-audio.com/dealers) at an RRP (Recommended Retail Price) of £1,949.00 GBP (including VAT)/$2,399.00 USD/€2,249.00 EUR (inc. VAT).
FEATURES
• A full featured Super 6 Analog Hybrid 12-Voice Synthesizer in a beautifully designed, compact, portable, all metal desktop chassis
• Ergonomic features such as VESA mount compliance, optional rack ears (7U) and robust flip up feet offering versatile integration into your studio.
• Large format, high quality potentiometers and switches for unparalleled tactile feel 
• Additional features such as drift control, independent control of analog Highpass filter, pan spread control and advanced envelopes and polyphonic aftertouch
• Polychain option (with Super 6) and MPE operability in future update
• 12-voice Polyphonic Binaural Analog-Hybrid Synthesizer with Superwave Technology
• Superior build quality and intuitive hands-on control for expressive performances 
• FPGA-based oscillators featuring Direct Digital Synthesis (DDS) and downloadable waveforms
• Real Voltage Controlled Analog filters and amplifiers and modulators
• Flexible loopable envelopes, LFOs and modulators with audio rate modulation
• Immediate and easy to use arpeggiator and sequencer and 24-bit Digital effects section
Info: UDO Audio