Sub51 releases Beyond Guitar
The new sample library combines guitar samples with a dsp-chain to create unusual and experimental sounds.
Beyond Guitar offers a range of hauntingly beautiful pads, inspirational loops and a wealth of one-shot samples, all sounding far-removed from their six-string origins. Various proprietary sound design techniques were used to transform the raw sounds from various guitars into something completely new and un- guitar-like, blending the characteristics of synthesis with the organic texture of real instruments.
The large library of loops provide rhythmic backdrops and melodic sequences that would fit into a number of modern musical genres from ambient to experimental. Beyond Guitar's generous selection of one-shot samples cover a lot of tonal ground and can be used to create custom rhythm loops or 'ear-candy' punctuations. In total there are 33 Tempo sync'd loops, 76 one-shot Click, Scrapes and Pops, 56 one-shot Effects, 33 Loop Slices, 25 editable Pads and 33 unearthly ambient Spaced one-shots.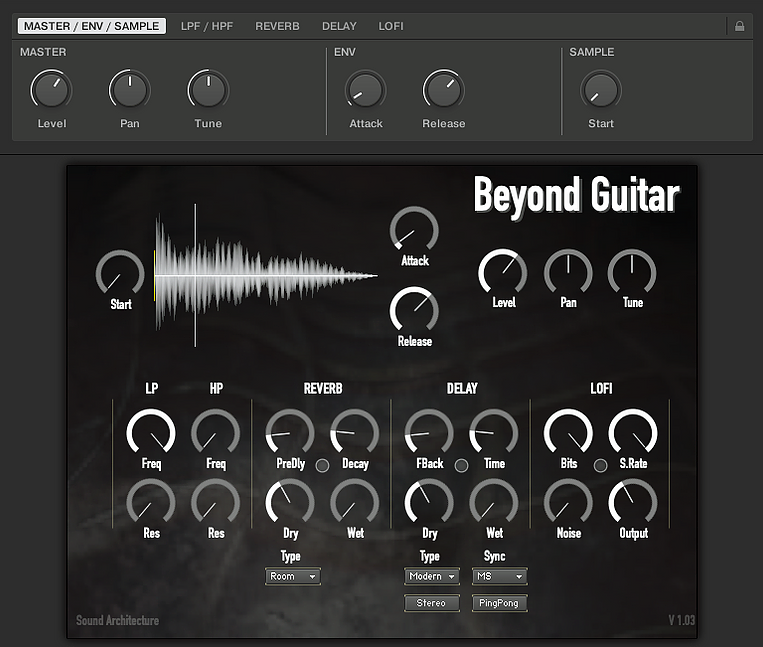 Further additions include the loops supplied in Apple Loops format and MIDI files for the loop sliced instruments. The Kontakt version, which also includes snapshots supporting Komplete Kontrol, requires the full version of Kontakt v6.5.3 or later.
Sounds can be further modified via the Kontakt instrument control pane, which provides straightforward control over Level, Pan, Tune, Attack, Release, Sample Start (not Pads), LPF, HPF, Reverb, Delay, Chorus and Rotate (Pads only). There are also controls for Room and Hall reverb, various Delay types and a tempo- sync'able Chorus and Delay. Beyond Guitar will appeal to generes such as Ambient, Electro, Ethera, Experimental and Spatial but in reality the only limitation is imagination. Introductory price: £14.96.
Info: Sub51