Ensoniq's classic '80s Cross-Wave synth reborns
SQ80 V is the new Arturia virtualitation of legendary classic synth: the Ensoniq SQ80. Arturia SQ80 V weaves hybrid lo-fi character, complex industrial textures, and thousands of unique waveform combinations into a quick-fire softsynth enhanced for modern production.  SQ80 V's perfectly-modeled 8-bit 5503 DOC chip delivers digital sounds that are uniquely full of organic character, ranging from silky smooth to razor sharp – all ready to customize & play in seconds.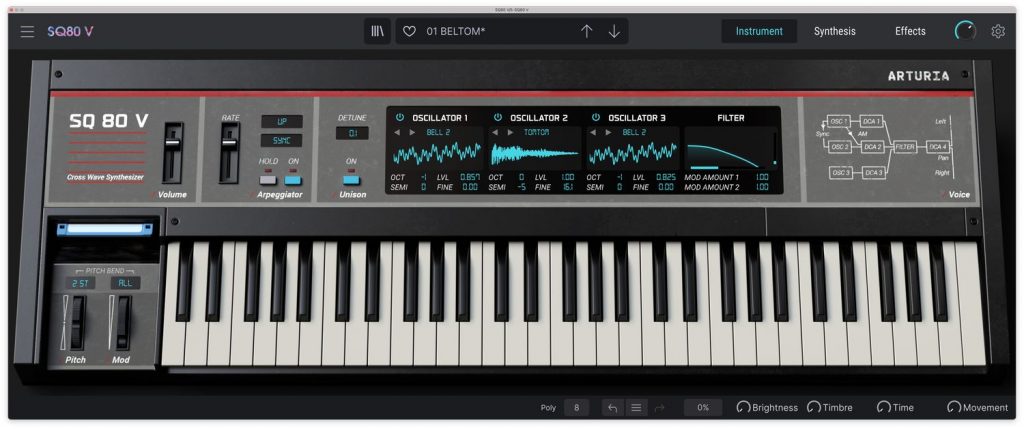 Digital oscillators collide with an emulated analog filter and output circuit for sinewaves that growl, harmonics that sizzle, and warm lo-fi timbres that are perfectly imperfect. Each of its 3 oscillators can be assigned a different waveform; SQ80 V unites classic waveforms from the original built-in library with hundreds more that we've added, ranging from the familiar to the abstract. The resulting range of sounds at your disposal is simply enormous; soft moving string pads, plucky pulse width basses, glitchy industrial percussion. SQ80 V offers up to 16-voice polyphony – twice that of the original hardware instrument.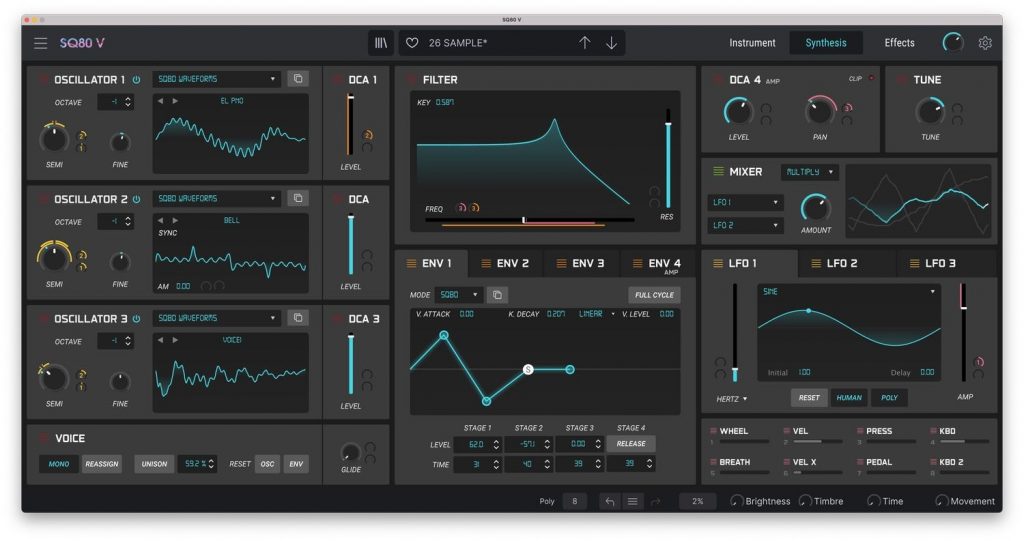 Two additional envelope modes, DADSR and MSEG, allow to shape the attack, duration, and evolution your sounds. The former adds a delay stage to the traditional ADSR for staggered strikes and interesting rhythmic patterns. The latter is a fully-customizable looping function generator for painting envelopes your own way.
FEATURES
– 3 digital oscillators based on the original DOC chip
– Over 400 waveforms across 4 unique banks
– Amplitude Modulation and Hard Sync
– 4 analog DCAs; 1 for each oscillator, 1 master output
– Analog resonant low-pass filter based on the original CEM chip
– 4 polyphonic envelope generators with 3 modes; SQ80, DADSR, MSEG
– 3 LFOs with 6 waveforms
– 8 MIDI sources
– Modulation mixer for combining 2 modulation sources
– Built-in 7-mode arpeggiator
– Up to 16-voice polyphony with Unison mode
– 4 FX slots across 2 busses, configurable in series or parallel
– 15 master effect types
– Advanced Brightness, Timbre, Time and Movement macro controls
– 200+ factory presets, including 40 from the original SQ-80 instrument
– MPE compatibility
Info: Arturia